Can you introduce your band?
Hi Pejchy! My name is Måns and I play the bass in Vallgatan. We are from Jönköping, Sweden. Jönköping is the town that is in the most populated area of Sweden, the middle south (above Stockholm there is thinley population, compared to the size of Sweden) and the most rumored for it's christianity beacuse of all the churches. And yes, we hear that a lot.
We started as a duo in may 2012 by Fidde and me since we been talking for a long time to play some Oi! and espescially in our own language because the lack of Swedish in the punk scene today. Everybody wants to be international with the English but they forget their own crowd. Anyhow, we soon met our drummer Jacob at a drunken sunday in a bar who was there with a common friend of ours. Suddenly we had our third member and the band was completed for a while.
Fidde have been into a lot different bands and styles over the years and are a really proffessional musican and Jacob has been into some punk bands before.
Myself are totally unexperienced with bands, but I like to write music and lyrics and been doing that for other bands over the years.
Right now the line-up are: Fidde - Vocal, guitar and drums. Måns - Bass, lyrics and music.
What are your lyrics about?
Our lyrics are mostly about to live in our society, friends, relationships, work and drinking. Good and bad, sober and drunk. Pure punk.
Where do you get inspiration for your music?
The lyrics are mostley common stuff that you read or hear about. Nothing new really, but from our own view perhaps. The music are punk in the classic Swedish way. Every land have their own sound and our sound is Swedish. As simple as that.
I think, that you didn´t play so much gigs, but you have played some interesting gigs with Condemned 84, Pitbullfarm or on Kuggnas festival? How were those gigs?
We are a really fresh band and thanks to connections we got a great opportunety to show ourself for a really big audience at the Kuggnäs festival. A chance that bands use to fight for in years but we got it after just a month since we started! It was also Ultima Thule, a really important swedish band who have exist since the early 80's, last concert. How wonderful isn´t that!? Thank you very much, Jocke of Pitbullfarm!
We have only been at stage three times since we started, but all of them have been amazing. Pitbullfarm are a great band with great members. Condemned 84 & Agent Bulldogg was an unplanned gig. We were there to listen to the bands but met them before the concert for a chat. In some how we ended up on stage before they ment to play. And that was awsome! I have been listen to Agent Bulldogg since their first album "Livsstil" got released 1991. They are my favourite band. Anyhow, we don't play to get famous or to make any profit - just for fun. But it's really nice when people like the stuff and want us to make more music, t-shirts (all sold out) and play at gigs.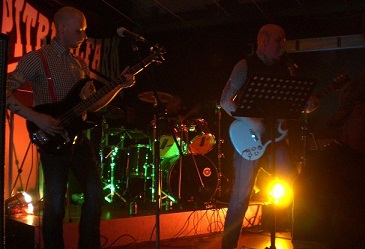 Can you say something more about scene in your area?
In our area punk isn't specially big, unfortuntly. The gigs nevertheless. A lot of people listen to it but rarly any concerts. But in Stockholm the scene seems to getting bigger for every year because of Kjell Hell and Pretty Shitty Town. This time Oi! is back to stay!!
Can you recommend some new bands from your country?
Kombatants and Projekt Oi! are two new bands that we're really recommend. Projekt Oi! are at the moment in the studio to make a new album and Kombatants releasing their first album 2:nd february. Otherwise I'm glad that Pitbullfarm started up again and is also out with a new album soon (mars 2013). These bands do we hope to be on stage with some day. Particularly all of them at the same time!
Do you know something about Czech scene?
We like European music (not only English and Swedish band) more than American for an example, but hav'nt good knowledge we're sorry to say when it come to Czech. But we promise that will change after this interview.
Which bands do you usually listen?
What are your TOP albums 4-skins, Unit Lost, Toy Dolls, Liptones, Misfits, Close Shave, The Clichés, On File to mention a few.
Our favourite albums are:
Agent Bulldogg – Livsstil (I won't ever get tired of this)
Cockney Rejects - Best of II
Skrewdriver - All skrewed up
and least to expect, actually Burzum´s album "Filosofem".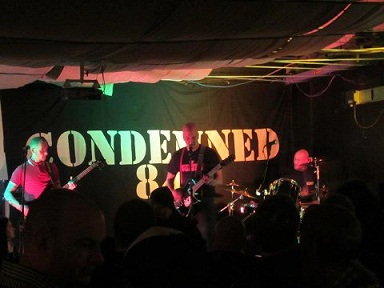 Are you collecting vinyls or CDs?
I love vinyls and have to say with all of the bands above... And a lot more. They're all precious!
Do you have some hobbies beside music?
Is drinking a hobby? No? No hobbies then.
Yes, we're about to record and release our first album this year. We're thinking about 12 tracks - 9 new, 1 cover and 2 from our mini CD. But nothing is decided so we might as well record and release 20 songs or none at all. But we think it will turn out as planned (we will send you a record for a review) and get it released some where in the first half of 2013.
Except for the album we have recorded a new song "Huligan" (The hooligan) in the studio that will be released exclusive on youtube as a music video in a week or so.
Thank you very much for showing intresst in our band and we're hope to play in Europe one day and especially in Czech! Best regards