Lone Rider - Skinheads Web Zine
---
---
The Corps

answers by Alex. (August 2009)

Can you introduce your band?

The band has undergone a few line-up changes, but currently the band is Alex - vocals, Bevynn - guitar, Kev - guitar, Will - bass, and Jordan - drums. We do alls sorts of things. I tattoo for a living, Will and Jordan work in logistics, Kev is a truck driver, and Bevynn works at the state art gallery. The ages range from 28 to 42.

Can you say something about bands history?

We started just doing hard streetpunk. Pretty simple and primitive. The first EP "Into Battle" has some embarrassing moments, but that's what we sounded like. The line-up was quite different then too. Over time, the band began to take on more influence from bands like Rose Tattoo and Motorhead. We always liked that music, but I think we assumed it was out of our league to be playing that kind of music. I think the band sounds a lot better now. Now there's a couple of albums ("Nail It Shut" and "Hold Fast") which we're proud of, and the sound is more solidified.

Have somebody from your band experiences with playing in some other band?

All members have played in heaps of other bands. Current and pastmembers of The Corps have played for: Sydney City Trash, Punisher, Thug, Fuck Oath, AVO, Throwdown. Currently me and Will are working on a side project called Butcher Boys.

What bands influense you?

I'd say the biggest influences are Motorhead and Rose Tattoo. But we take a influence from all sorts of bands: The Kids, AC/DC, Condemned 84, Cocksparrer. Heaps more. Too many to mention.

How many concerts and with which bands did you play?

Do you mean on our Europe tour? We did 12 shows over there. We played with heaps of bands, most notably Condemned 84 on our last show in Hildesheim. If you're talking about in Australia, we have played heaps of shows. More than I can count. We've supported Dropkick Murphys, Flogging Molly, Exploited, Sick of It All, Rose Tattoo, and UK Subs over here.


What was your best and worst gig?

This is so hard. I think my favourite gig was playing with Condemned 84 in Hildesheim in August 2008. I think our worst show is harder to name. I think every band plays a number of crap shows with low attendance or boring crowds at some points in their life.

Do you play some covers?

Yes, we do play covers. At the moment we do Rose Tattoo's "Nice Boys", and The Kids' "This is Rock'n'Roll". We used to play "Bomber" by Motorhead, but the current line-up doesn't know this one. I think we'll be pulling out some new Motorhead covers soon though. We used to do a few Johnny Cash songs, but I think the way we were playing them wouldn't fit with our sound now. Also for a short time, we were doing a Blood For Blood song and "Take 'em All" by Cocksparrer. I think covers are great. They show the band how to do something they don't normally do as far as writing songs, and they help when you're playing to an unfamiliar crowd.

Can you say something about scene in your area?

Australia has such small scenes for all underground music except that new school metal hardcore. So a lot of bands from different styles and scenes end up playing together. I think it's good really. The only problem is that you have to be very aware of all the other gigs in your city so you don't have two similar gigs on the same night.

Do you know something about Czech scene?

To be honest I don't know much about the scene in Czech Republic. We played there and spent about a week there. Most people we were hanging around with were not from Czech Republic though. The shows were great and the festival we played at was a lot of fun. I want to come back to play and to hang around too.

What do you think about a)Rose Tattoo b)Marching Orders c)Rust d)Taipan e)Fortress f) Tattooed Mother Fuckers ?

Rose Tattoo: this band is excellent. They were playing some of the wildest music back in 1978 when their first album came out. I like this band more than AC/DC. They have released some crappy songs, but their best stuff is so good, it more than makes up for it.

Marching Orders: a good solid band. We've played with them a few times and each time I've seen them play, they are really good. I think I have all their relaeses.

Rust are great. I think they're playing really wellnow they've got their line-up sorted out. And I can't wait for their new album. I've heard some tracks from it and it kicks ass. I think this will be their first release that really does them justice. Good bunch of guys too.

Taipan: I like this band. Totally different to The Corps. The singer used to play bass for us and was on Nail It Shut and the first EPs. They try to make their shows a bit too crazy and end up wrecking venues which is think is fucked. I'm friends with them all, but I wouldn't want to lend them equipment for a show.

Fortress: I have never met these guys, so don't know too much about them. I think this band has an excellent sound and very well written songs. If they weren't an RAC band, they would have been massively popular.

TMF: Great sound overall. My favourite is still the first album. Their music must be played loud to really get the mood. I've only met the guitarist and singer, but both were stand up guys.

Your sound is like mix Streetpunk/Oi! with Rock..n..Roll. What do you think about rock..n..roll fashion in last years?

I don't know really. All scene fashion is pretty gay, whether it's punks, skins, emo's, hardcore kids, etc. (But Emo is the worst) And pretty mich anything will call itself rock'n'roll as well. What people call rock'n'roll changes from day to day. Bands that would have been considered hardcore in the early 90s are now calling their music rock'n'roll just because it doesn't have blast beats and stomp parts.

What are your opinions on tattoo? Do you have some tattooes?

Tattoos you say? I tattoo for a living. I am constantly surrounded by tattoos and tattooing. And I have many tattoos. I like tattoos a lot. ha ha. There are heaps of dickheads getting tattooed, getting shit things tattooed, getting badly done tattoos... who cares. I think the only problem is the explosion of shops being started by people who just want to make money. There's a lot of people who have gotten into the industry recently who are learning from other people who have only been in the industry a year or two longer than hemselves. But I don't have to deal with any of that stuff.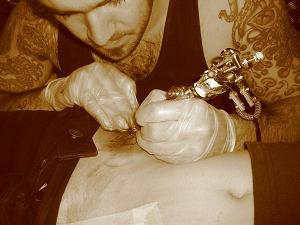 Can you say something about your Euro Tour in last year? Do you have some problems or was it without mistakes?

Overall, I think the Euro tour went really well. We had heaps of fun, played some great shows and met some great people. The only problem we seemed to face was when people didn't want to book us because of other shows we were playing. We wanted to keep the shows non-political becuse the band is not political. This worked out in general, but some bands and promoters had a problem with us playing with Condemned 84. Who cares. We will play with who we want and people can like or leave our music if they want. But this was a minor issue. We had so much fun, and I think a lot of people don't care about the small infighting in the underground.

You released EP on East End Rocords last year. Do somebody from band collect vinyls?

Yes, East End did a picture 7" for us last year. It was more like a single, and it came out the same time as our newest album "Hold Fast" (Randale Records). I think about half of The Corps collects vinyl. We were keen on this release because a picture disc vinyl release is rare unless you're a big band.

Do you have some favourite films and books?

Favourite films: "Sin City", "300" at the moment.

Favourite books: "Animals: 1419 Copyright-Free Illustrations", can't think of anything else.

Are you sportfans? Do you prefer Football or Rugby?

I don't get time for much else apart from work. I definitely like Rigby more than Football. And I definitely like Rugby League over Union. AFL (aussie rules football) is good too.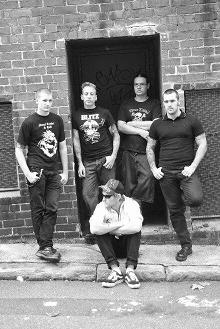 Do you have some hobbies beside music?

It's all tattooing. Drawing, painting, tattooing. It all comes back to tattoos for me. Its my work and hobby.

Some future plans?

The Corps is very keen to come back to Europe in 2010. We have made some staring contacts and will begin serious planning eaerly next year. I think we would also very much like to go to USA and Canada in the future, but I think it would be good to have a release on a North American label to go with this. Right now we are writing material for another release. We are demo-recording some of it currently to see how we want it to sound. I think this will just be an EP or about 4 or 5 songs, but we'll.

Last comments?

Thanks for the support and the interview. Hope to come back to Prague soon for some shows.