Lone Rider - Skinheads Web Zine
---
---
Sydney Ducks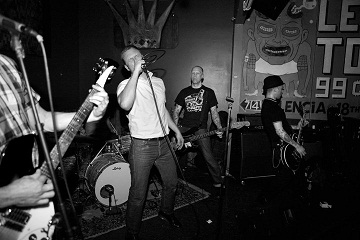 Can you introduce your band?
We're Sydney Ducks from San Francisco. I'm Grant, I'm 33, I play guitar, and I make guitar parts for a living. I've never been in any bands that made it far enough to even have a name. Gave is the other guitarist. He's 41, works at a record shop and has been in a lot of bands--most recently Acephalix. Mike is 41 also and he plays bass and has been in a lot of bands, the most famous two being Subway Thugs and Emergency. Carl is 34, and sings. He and Mike both work at Pirates Press. Carl has been in a lot of hardcore bands, the biggest one being Our Turn. Phil is on drums and he's also been in a bunch of hardcore bands as well as the punk band Airfix Kits, and he currently has another power pop project called Cocktails.
Can you say something about your history?
The band started nearly 3 years ago. I ran into an old college friend & he told me that a couple of his friends that liked a lot of the same music as me were trying to start a band & I gave him my number to pass along to Carl & Phil. Carl called me a couple of weeks later & we met for lunch to discuss his & Phil's idea, which was actually to start a mod/power pop band. Bruce Roehrs (RIP) told Carl & Phil that he knew someone who played bass that would be into jamming with us & he put us in touch with Mike. The four of us came up with enough songs to record the demo, which came out about a year & a half ago & we didn't have enough songs for a set until about a year ago when we played our first show. We started talking about getting a second guitarist, thinking that it might help us move a little faster & also fill out our sound, but it was a while before Gabe joined the band. We all knew Gabe as the security for Amoeba Records, SF's biggest record store & he had played in a punk band called Acephalix. I had given Gabe a copy of our demo & he attended one of our shows & said that he dug what we were doing. Knowing that he had quit Acephalix we asked him to join the band.
How did you devise your name Sydney Ducks?
Sydney Ducks was a derogatory term used to describe the Australian & Irish immigrants who came to San Francisco during the gold rush in 1849. The term was later embraced by San Francisco's first gang, who were blamed for arson & other crimes committed in years following. We are very much interested in history, hence the name.
Can you say something about your discography?
So far we've only released two singles and a demo. We hope to have a 6-8 song MLP finished before the new year.
What are your lyrics about?
Carl creates the lyrics from a combination of personal experience & themes drawn from history.
Where do you get inspiration for your music?
Yes, we have broad influences. All of us our older and we don't listen to as much Oi! music as we did in our youth, so we find inspiration in lots of different genres. We all agree that The Who is our greatest influence, but we'd be lying if we didn't acknowledge that The Templars didn't pave the way for bands like ours.
How were your concerts with The Templars, Cock Sparrer or Old Firm Casuals?
Those have all been great shows! We've been lucky enough to share the stage with a lot of great bands!
Can you say something more about scene in your area?
There's not nearly as big of an Oi! scene in SF as there once was, but aside from the bands that you mentioned there is a the zine, Suburban Rebels made by our friend Pete. I think that the American Scene is aging. The Internet seemed to have destroyed subcultures & a lot of young people are less focused in their musical tastes than they were back in the days when you had to be a part of a scene if you wanted to know about a genre of music. Now one can become an expert in minutes.
Can you recommend some new bands from your country?
Oh man, I haven't heard of anything new in a little while. I guess that the last newer Oi! band I've heard that is worth checking out it the band Shark Skin from LA.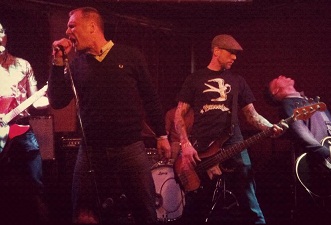 Are you going on gigs, where you dont play? Which were the best, that you ever visit?
Yeah, we all go to a lot of different gigs for a lot of different types of music. I'd have a heard time saying what is the best one that I've ever been to, but most recently I've enjoyed Tame Impala and Agalloch. Haha, not exactly Oi!
Do you know something about Czech scene?
Yeah, we played in Prague about a month ago and loved it! We played with Crossczech and Saints and Sinners and they were both great bands!
Which bands do you usually listen? What are your TOP albums?
Recently I've been listening to a lot of dark folk bands like Sol Invictus, but I listen to lots of different stuff depending on my mood. My top albums are probably Who By Number by The Who andThe Captain Beyond self titled album. Those are the two albums that I've been listening to forever that still get regular play anyway.
Are you collecting vinyls or CDs? Which records is for you the most valuable?
I collect records and I'm not sure what the most valuable record that I own is. In fact, I can't even think of what the most I ever spent on an album is. I was pretty happy to pick up a mint copy of Cocksparrer's Shock Troops for $15 though.
What do you think about mod or ska? Do you listen that music?
I love mod music like The Chords and The Jam and I like some Ska as well, although I listen to it less. When I saw The Skatalites when I was 18 or so, that may've been one of the best shows that I've ever been to...actually it was great to see Desmond Dekker before he passed to!
Do you have some favorite books or films, which you can recommend to us?
Hmm, well I'd recommend the book "Among The Thugs" and the movie "Small Faces."
Do you have some hobbies beside music?
I play tennis and I'm into cycling. Most recently I've been doing lots of mountain biking!
Hopefully we'll play some other places in the US soon and maybe tour Europe again next summer if we can get the money together.
Thanks for taking the time to interview us! And it was great to get a taste of the Czech scene when we were there this summer. Hopefully we can return soon!