Lone Rider - Skinheads Web Zine
---
---
Stato Asociale

Can you introduce your band?
Oi! to everyone, we're Stato Asociale, an italian skinhead band! The actual line up is: Fab - voice, Michele - guitar, Simone - drummer, Pinè - bass. I don't know exact age of all members, but aproximately between 33 and 20 years. We're all working class kids (or unemployed). We're coming from Trento, a city in the north of Italy.
Can you say something about your history?
We started to play in 2003, but we always had endless line-up problems. Only since 2007 have finally found a stable line-up, and we finally had a chance to play live, because so far we have only had pratice experience. We've never give in...!
What bands influense you? Can you describe your sound?
We love skinhead music and that's impossible to forget the 80's Oi! and RAC bands. That's our inspiration! Our suond is classic... exactly what you expect from a skinhead band, nothing to do with modern suonds, metal or hatecore.
Do you play some covers on your gigs?
Yes, we play covers of Peggior Amico, Rough, New City Rocks, Dente di Lupo and others italian bands. We also play a lot of covers of 4 Skins, Combat 84, Skrewdriver, Condemned 84, Businness...
Have somebody from your band experiences with playing in some other?
No...i think that's enough for everyone of us to play in the Stato Asociale.
Can you introduce your discography? How are you satisfied with your work?
2008 - demo "Proud nationalist Oi! music" - 5 songs 2009 - Cd "Grezzo, stupido & cattivo" - 13 songs 2010 - EP "Oltre la gloria" - 3 songs. Now we're working at the new album. Satisfied? Yes of course we are glad to have made recordings in a professional studio, although personally I believe we should always need to improve: this means for us to have a sound and musical chords even more like the good old british oi!
What are your lyrics about?
Our lyrics is about skinhead life, everyday life, working class, patriottism, football, boots, beers and girls, fights, sick society and social problems.
I know, that you played with Pressure 28 in Italy. How was that gig? How are you looking for your show in England in March just with them?
We're very glad to have played with Pressure 28. The gig with Pressure 28 was ok, but during our performance we had some technical problems with guitar amplifier. Fortunately, when the British band played the amp has been changed .... and so they gave us a great show! Great band!
In England we will play with Pressure 28, Skinfull and Insane Youth. We're very proud of it! We would like to thanks some italian kids who living in London for contact us.
Can you describe scene in your area? Can you recommend some bands from your country?
In 2003 we' ve start Stato Asociale, specifically to do something for our area (Trento)...but at today everything has changed, even motivations. There are some skins around, definitely better than 10 years ago (in terms of numbers), but honestly not all is as it should be... In the rest of our Country, there is good skinheads crew, a good webzine "Voice of generation", a great skinhead-pub called "Bulldog Pub" (everytime i go in this place i had a lot of fun ...and i return to home very drunk: my girlfriend hate me ahhahaha)
I like so much Pinta Facile, the last works of Brutti & Ignoranti and also live concert of Garrota: they have a new singer and play a lot of kickass oi! covers!!!!
What do you think about Nabat and their rebirth?
Nabat was a great band, the first italian skinhead band, one of most popular into skin & punk scene. We also love it. In the 90's...they became a political band, now they are reds, playing into the squatts...nothing to do with us.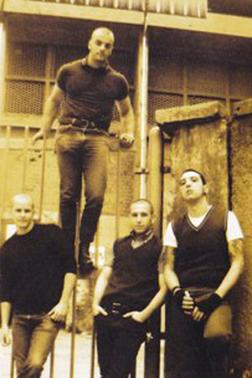 What´s mean being skinhead for you?
Skinhead is about working class, patriottism, honour code, passion for our Cult (Oi!, dress hard and smart, beers, football etc etc) No middle-class mentality, no fuckin drugs, no freak, thanx!!! However, i think that everyone skinhead have also a more personal way about this.
Do you know something about Czech scene?
Not much, sorry. During the years i've listened some RAC bands like Kratký Proces and Vlajka, or Oi! band like Pilsner Oiquell, The Riot, Operace Artaban, Randall Gruppe, Protest, Orlík. I've also some copies of "Made in Pressburg" zine. But i think that you have excellent beers, that will make your scene very very happy...Ahaha!
note. Krátký Proces and Made in Pressburg zine come from Slovakia.
What are your TOP albums?
Very Difficoult!!!! Not necessarily in order of importance:
Combat '84 - Order of the chaos, Condemned 84 - Battle scarred, Indecent Exposure - Reaveal all!, Close Shave - Oi! kinnock/Hard as nails, Skrewdriver - Boots & Braces, Peggior Amico - Il leone ruggisce ancora, No surrender vol.1 & 2, The Oppressed - Totally oppressed, ABH/Subculture - Split, Vengeance - 1986, Public Enemy - Englands Glory ...stop please, it's a too much long list!!!!
Which band and album from Italy and world is the most important for you and why?
Like as band i think Peggior Amico "il leone ruggisce ancora", Nabat "early years" and all Condemned's + Combat '84 albums. Personally, even though it may seem strange at all, the album that convinced me to stay skinhead for life is Battle cry - to fight and die. I was 19-20 years when i've bought and listened it, I do not know why but the lyrics and the atmosphere of this album came into my veins.
Do you listen some music beside Oi! and Streetpunk? What dou you think about bands like Smodati?
I listen 95% Oi! and RAC music. Some ska, skinhead reggae, r'n'r , psychobilly...and italian '80 trash music of course!!!!!!!!
I've seen Smodati at the Bulldog Pub...not my cup of tea but nice.
Where can we buy some your CD, T-Shirt or other merchandise?
You can contact us at: statoasociale@gmail.com. We have new t-shirt (all sizes are avaible, for girls too, black or white) For CD's and EP you can contact Barracuda Records, it's our label.
What do you think about football fanatism? I think, that it is unexceptional in Italy, am I true?
Yes but at today the goverment oppression has ruined everything. The law for the ultras is different than for other common citizens and the police are above any law.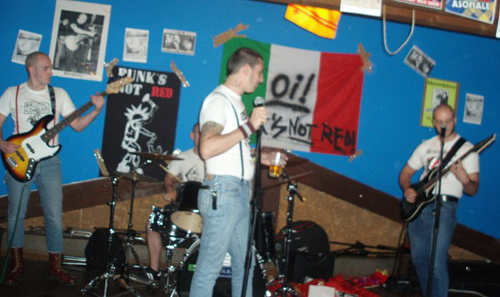 I would want to ask you on web Odiati E Fieri. What is with it? Will it continue?
Odiati & Fieri was a great webzine, but at today has split up. I don't know why....
Do you watch on some web sites about skinheads, that you can recommend to us?
There is a new webzine Italian webzine: Voice of generation For me is great! I like Glory days of Rac also.
Do you have some favourite films and books?
I like italian '80 trash comics, some horrors, some thriller... Books? what's that??? ahhahahaha
Do you have some hobbies beside music?
Go to the bar and invented excuses to not go at work.
Some future plans?
We are working at the new full lenght album, i hope this year will be ready.
Last comments?
Thanx a lot for the interview, i would like the thanks you for the webzine work...it's really important for the worldwide scene to have people that want to do something for our Culture! ...and...i'm not sure about my english...sorry!!!