Lone Rider - Skinheads Web Zine
---
---
Shameless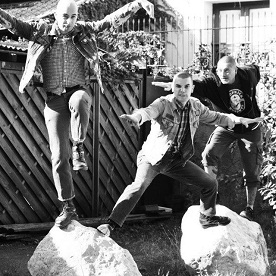 Can you introduce your band?
Nico: It all started in June 2011, in the city of Lyon, France. We originally started as a trio but a fourth member, Gilles, has just joined us as second guitarist. He used to play in Scooter's previous band. As for me, I'm 31, working as a packer. In the band, I play bass and have played in bands such as Rude Gones and CDT (oi!), and also in a ska band called Gang des Lyonnais. I've been living in the region of Lyon for 12 years now.
Dorian alias "Pepito": 24 years old, service engineer. Have been living in Lyon for 3 years now. I met Nico as soon as I arrived which gave me the chance the follow the Rude Gones and be the roadie who never carries any gear (the best part ever). I 've played in several bands as drummer and but I was writing a lot of music for myself at the time so I took up the guitar and started singing so that I could at last play what i really wanted to. Nico and I being on the same wavelength musically, we realized we wanted to play the same stuff and forming the band was just self-evident.
Scooter: 48 years old, on the government's payroll. Former drummer of the Urban Gones, Olympic Lyonnais supporter and member of the Bad Gones. It's the no less famous Kiki, real walking encyclopedia of Punk and oi! in Lyon who introduced me to Nico and Pepito, looking for a drummer at the time. Can you say something about your history? Nico: The band's pretty young and the history is quite the usual stuff : rehearsals, gigs, recording. We're very good friends outside the band and hang out with the same group of friends.
Why did Rude Gones end?
Nico: I'm the only one in Shameless who has been in the Rude Gones, though Pepito had always been a close friend of the band and would come to all our shows. We 'd had talked about forming a band together many times and the Rude Gones splitting up made it possible. The reason why we splitted was mainly because of issues between band members. It 's hard to keep on writing songs about friendship while you're falling out with the members of the band. I'm still friends with the drummer though, he's in Paris and plays in several bands now. I have no news of the others.
What are your lyrics about?
Nico: I write mostly about lost friendships, girls who come to gigs as if they were fashion shows and who care more about their style than the music, I also write about being a 30 year old skin who's seen so many people leave the scene behind and a lot of what they used to strongly believe in.
Pepito: I write about nights out binge drinking, internet posers who spend their time slagging off people they've never met or seen (national sport in France), about being a skin today, and I also wrote something about being a patriot in this country.
Scooter: I write about nothing since I do not write the songs... but still I like how my two mates write and they know what they're talking about!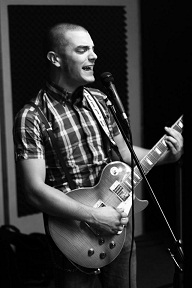 Where do you get inspiration for your music?
Nico: We write the songs together with Pepito. As for me, I get my inspiration from watching people around me, how they behave and also from what the media shows that pisses me off. Also what happens at work and human relations in general. I try not to use skinhead clichés in the songs, which don't really mean anything.
Pepito: Same for me, even though I use more "skinhead clichés" myself, but that's probably due to my being the youngest in the band.
How many gigs and with which bands did you play? How were your concerts with W.Barret and Booze & Glory?
Nico: We've played four gigs so far in total. We've played with West Side Boys, Warrior Kids and La Souris Déglinguée (a cult band in France). The gig with Booze and Glory and Wayne Barett from Slaughter and the Dogs was brilliant. It all happened in our town and was destined to our audience. We even covered a song from Scooter's former band and it was a blast. Pepito: and the food was great.
Scooter: the old veteran soldier I am played a lot of gigs with the Urban Gones and the conditions were pretty bad most of the time... I do not regret those days, quite the opposite actually, but it's pleasant to still be playing gigs today cause conditions are far better than twenty years ago, and Nico and Dorian are intelligent lads who are not stopped by trifling impediments, except maybe for our very first gig... :lol With Wayne and Booze and Glory, it was brilliant, because as Dorian said the food was fucking great!
Nico: the venue and the gear were also top notch.
Can you say something more about scene in your area?
Nico: The skinhead and punk scene is quite small here. I've played in all the oi! bands from Lyon that existed these past 10 years. I've also organized many gigs : Crane de Fer, Warrior Kids, Kerozen, Lutece Borgia... But apart from our group of friends and a few football supporters, nobody really cares about the skinhead scene. It's quite ridiculous as it's the second biggest city in France. And if you widen the scope a bit, the scene in France exists at a microcosmic level. The plus is that everyone knows each other, the con is that there's no sufficient support. I remember playing in Germany with the Rude Gones and it's the opposite : loads of bands, gigs, a real audience... What's more in France there's a real problem with politics within the scene. Patriotism is badly seen, quite shameful for a lot of people.
Pepito: That's right. The scene is actually dead, and whenever someone tries to bring it back to life people start criticizing, gigs are scarce and when they happen a lot of people don't show up. There are a few good gigs fortunately but they've become scarce.
Can you recommend some new bands from your country?
Nico: I think a band like Lion's Law deserves the attention for its musical quality. But the best band at the moment remains Shoot the Dogs from Saint Etienne.
Pepito: Shoot the Dogs really deserve to be more famous. Bombardier's also one France's finest but they've been around for a while now...
Scooter: Well, yeah it's fair to say that the "green dogs" of Shoot the Dogs aren't that bad...
What do you think about Bords de Seine or Une vie pour rien? labels?
Nico: Bords de Seine is gonna release our first record, and it's a quality record label. On top of that, Nico's a good friend and his importance in the diffusion of French oi! music is undeniable. I'm not a fan of all his releases but he has the merit of releasing everything that's around. As for Une Vie Pour Rien, they sometimes give the impression of being like "idealist living room skins", which is something that I don't agree with. Yet they release quality stuff and undeniably have a great musical culture. But overall it's a tad goody-goody.
Pepito: and BAM! He said it all!
Scooter: couldn't agree more!!!
Are you going on gigs, where you dont play? Which were the best, that you ever visit?
Nico: I come to less gigs now than I did in the past, but the ones I attend are of better quality. The fact that Breizh Wankers stopped organizing gigs really left a blank space in the scene. Apart from that, the best gig I attended was Madness at a festival in Paris. They replaced Oasis who had just splitted up.
Pepito: I went to a lot of shows in Britain, and I think my all time favourite must be Cock Sparrer in London a few years back. I also saw Close Shave recently and it was brilliant as well!
Scooter: The best gig I ever attended was … when we opened for Cock Sparrer in a council venue for the Fêtes du Bayou de l'Ain, in les Dombes... no no I'm kidding Pepito!!! It was actually in january 1980 and the guys were called "The clash".
Pepito: You'll see, one day we'll oopen for Cock Sparrer if they don't die along the way, or end up in a care home.
Scooter: I'd love to open for them again, 20 years after!!! (indeed, if they 're not already dead...)
Do you know something about Czech scene?
Nico: I know Pilsner Oiquell and I like the band Orlik. I get the impression their lyrics are quite controversial but I must admit I can't understand a word they say...
Pepito : I also really like Pilsner oiquell.
Scooter : I pass! Apart from Tchek..i Kario, I can't understand czech.
Pepito : If I write you a czech does it count? Ok fine, my joke sucks...
Scooter: No, no, you're underestimating yourself.. it doesn't suck... it's... well... how can I put this...
Nico: something that's just impossible to translate....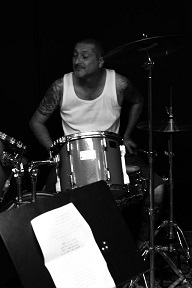 Which bands do you usually listen? What are your TOP albums?
Nico: Perkele, The crack, The business, Warrior Kids, Madness, The Clash...
my top:
The Crack - In Search of The crack
The Business - Welcome to the real world
Madness - Complete Madness
The Clash - London Calling
Specials
Skin Deep
Pepito:
Skrewdriver - All skrewed up
Skrewdriver - Back with a bang
Major Accident - Massacred melodie
Last Resort - Skinhead anthems
The Business - The Truth The Whole Truth And Nothing But The Truth
Snix - Quand le soleil se lèvera
Scooter: Shameless is the band I listen to the most at the moment...
Top albums:
The Clash - London Calling
The Bones - Bigger than Jesus
Parabellum - Post Mortem
Urban Gones - Virage nord
Are you collecting vinyls or CDs?
Nico: I have around 450 vinyls, maybe 200 45's and 300 cds... I guess you can say I'm a collector. But it's quite a small collection compared to some people I know.
Pepito : I have a few vinyls but not as many as Nico, and anyway I don't have enough space at home to store them so.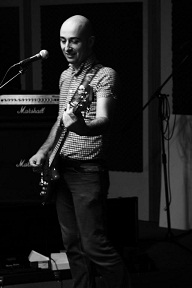 Do you have some hobbies beside music?
Nico: I like reading comics, eating my wife's tasty dishes.
Pepito: Eating Nico's wife's tasy dishes at weekends and my own wife's during the week...
Nico: Thank god I didn't say "screw my wife"... Because of my boring tedious job I can't afford more hobbies than playing with the band and going down the bar. what's good though about being in the most underground scene in the world is that you need to take care of absolutely everything and do everything from scratch. Sometimes we become sound engineers when we need to mix our recordings with our own equipment, sometimes it's graphic design for the record sleeves, the gigs posters, etc. It's truly fascinating but it's also really tiring.
Scooter: My hobbies are : football in general and The Olympic Lyonnais in particular. Apart from that, it's reading books and more particularly History books. Enjoying MY own tasty dishes and recipes and Nico's wife's as well.
Some future plans?
Nico: the release of our album by the end of the year 2012 with Bords de Seine, _the release of our 45 split with Teoria Gvaltu on Tolik records, _setting up the gig for our release party in Lyon with a British band, _writing new music.
Pepito: the release of Nico's kid at Nico's wife.
Nico: yep but that 's not Shameless related... it's a side project that just involves her and I.
Pepito: limited edition.
Last comments?
Nico: Thank you for showing interest, and thanks to all who support us : Nico and Mag Bords de Seine for their trust, poussin for the posters, Abu for being so available for us, Zelda for the corrections, the people of Lyon and last but not least our ladies who support us and put up so easily with us. I'd also like to thank Scooter and Pepito for their motivation. And lastly I'd like to thank Pepito's parents for delivering him into this world with such an extraordinary voice which makes me want to shout out : I do believe in the reincarnation of Jean Stephane's vocal cords.
Scooter: Cheers to Kiki, to the Bad Gones, to Titoune my better half... and mostly to Nico and Dorian who didn't kick me out of the band after our first rehearsals at the Chalet...
Pepito: Cheers to Lone Rider, maybe one day we could have a gig in Èeská republika? Thanks to the two old fellows who are in this band with me and made it possible for the record to be almost released, thanks to my wife and number one groupie, cheers to Nico BDS who believes in us and whom we're looking forward to meet again at our next show (he's the only one who sings along to our songs).