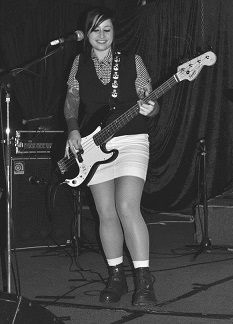 Hello, can you introduce your band?
Hi, we're RazorCut an Oi! Band from Melbourne Australia. There are 4 of us, two guys and two girls, we are Al (Vocals), Flea (Guitar), Snaz (Drums) & Doz (Bass). We're all between the ages of 30-40.
Why did you choose your name RazorCut?
We loved the song "That's when the Razor Cuts" by Guitar Gangster's. We also found it fitting as we are all skinheads with cropped hair.
What bands influense you?
We are influenced by classic and modern oi! and streetpunk such as CockSparrer, Evil Conduct, Anti Heroes, Blitz, The Crack, The Partisans. Australian Rock n Roll bands like Rose Tattoo and the like.
Can you say something about your previous or current bands?
Flea plays in Slick 46. Snaz played Marching Orders along time ago...and some other bands back in the UK where he is originally from. Al plays in Marching Orders and loads of other bands in the past. I've played in one other band too, just a punk band...
How are you satisfied with your EP Combative attitude? How was your cooperation with Rebellion and Longshot records? Do you prefer EPs before CDs?
We were quite happy with how the 7" turned out. We loved working with both Rebellion & Longshot. They're great labels to work with & they are great guys. I prefer vinyl over CD's personally, they're more fun to collect.
Do you plan some new record?
We are currently in the process of recording and mixing our new release, a Self Titled 10",which should be out within the next couple of months. We are very excited about getting our new stuff out there. Another record which has just come out that we contributed to is the "This is Streetpunk Vol. 3" on Pirates Press Records, we feel privileged to have been added with bands such as Runnin' Riot, Strongbow, The Gonads and more.

Can you say something more about scene in Australia? Can you recommend us some bands?
The Australian scene is quite small, in Melbourne there are about 4-5 Streetpunk/oi! bands. We all seem to know each other and hang out or play music together. There are also a few bands in Sydney & Brisbane that play Oi! too. Some bands to get onto if you haven't already are The Hard Targets, Stranglehold, Bloody Hammer, The Worst, RUST, Eager 13, Plan Of Attack and Mouthguard.

What are your favourites bands and albums?
So many to mention really....I can't get enough of Argy Bargy at the moment - I love both Hopes Dreams Lies & Schemes and The Likes Of Us.
I love The Crack - In Search of the Crack.
The Partisans (Self Titled)
Evil Conduct - Rule OK
Cock Sparrer - Shock Troops, Guilty as Charged
Rose Tattoo -Rose Tattoo, Assault & Battery, Scarred for Life

The Last Resort, Noi!se...
So many more...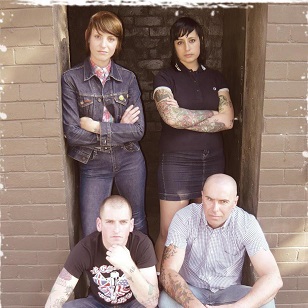 Do you plan some gigs in Europe?
We do plan to come to Europe. I'm thinking it would be within the next year or two. It all comes down to money really...that and time... we will get there one day. I can't wait to play the UK & Germany especially. The Oi! scene in Europe is awesome...so many events on! You're all very lucky.
What do you think about AC/DC and Rose Tattoo? I think, that they are like a gods in your country.
I love Aussie Rock & Roll. I prefer Rose Tattoo over AC/DC...but they're both great bands, they've inspired so many. They are so great to see live too. They still rock out like they're young men! Love it!
I saw one documentary film about Sharpies in Australia? Can you say something about them? I must say, that I couldnt believe that, what I saw.
Sharpies were around Melbourne mostly throughout the 70's. There were heaps of Sharpie gangs, that filled the suburbs of Melbourne and the idea was to go out with your mates and cause some trouble with rival sharpie gang members from other suburbs, they often got into fights at train stations or dances. Sharpies were influenced by British Ska, Mod & Skinheads, however the Sharpie movement in its later stages moved to glam....(think Skyhooks). If you want to check out some old Sharpie bands check out Lobby Lloyd & The Coloured Balls. I love that band!
Future plans?
More releases and a tour...eventually :)
Last words?
Thanks for the interview Pejchy.