Lone Rider - Skinheads Web Zine
---
---
Peter (Pure Impact)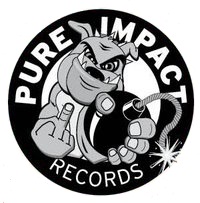 Peter comes from Belgium. His skinhead life started in 1983. He made zine Pure Impact between years 1986 and 1996. He founded Pure Impact, one of the most famous skinhead label, in 1996. Pure Impact released albums to ones of the best bands on the world like Les Vilains, Headcase, Retaliator, Bakers Doze or Razorblade.
I know, that you are skinhead a lot of years. How and when did you become skinhead?
I've been a skinhead since the beginning of 1983. I started listening to Oi! and punk some years earlier and after having been on a school trip to London where I saw loads skinheads I knew it was the thing for me. At the same time there were other kids in my neighborhood switching from punk to skin.
Dont you want to rebirth Pure Impact zine?
No. I still like to read good zines, but I feel the kids nowadays don't have the same drive anymore and don't show enough interest in different bands, scenes etc. The internet should have made things easier, but in my opinion it just made people lazy and complacent.
What do you think about old bands rebirths especially Close Shave´s?
I usually don't mind. It is a good opportunity for younger people to see some classic bands and for the older ones amongst us, it gives us a chance to see our old favourites again and meet up with old friends. I can only applaud Close Shave's return. Those guys have constantly been around, even after the breakup of the band and I think this was just something bound to happen. What I don't like about some old bands is that they jump on the PC bandwagon - e.g. The Last Resort - and let themselves be dicateted who to play with and who not by some left-wing promoters. There's not much pride in that, and since when did skinhead mean giving in to people and bowing down?
Are you still going on skinhead shows? Were you on some really good gig in near past?
Yes, I do. I didn't see very many this year. Last year we had some great Endstufe shows in Belgium, Cock Sparrer was a great one too: many different people but a great atmosphere and Les Vilains are usually really good live too.
What was your best gig, that you have ever seen?
I've seen too many to pick a best one, many memorable ones in many countries, but the one that really stands out was the Böhse Onkelz farewell show: 120,000 people, all singing along to every single song, classics and newer ones, a show which still gives me goosebumps just thinking of it.
Can you recommend to us some new band, that you like?
One of the new bands that has impressed me the most in recent times is Légitime Violence from Québec, Canada. They have an aggressive sound, rage against everything and everyone and don't give a fuck about a PC image. Other good recent bands are The London Diehards, 96 Brigade, Hammer & The Nails and The Yellow Stitches.
Can you describe your TOP 5 bands?
That's a really hard one as it is something that evolves over the years, but here are a few bands that have a very personal meaning for me and therefore would be my top 5 as in one way or another they shaped my life: Böhse Onkelz, The Rogues / Rival, Vacant Lot, Dropkick Murphys and Indecent Exposure.
Can you describe your TOP 5 albums?
Blitz - Voice of a generation
4-Skins - The good, the bad and the...
Skrewdriver - Boots & Braces
Ultima Thule - The early years
Böhse Onkelz - Onkelz wie wir
Can you introduce more about scene in Belgium?
There are only 2 cities left with a decent number of skinheads still: Bruges and Antwerp, the rest of the skinheads are scattered over mostly the northern, Flemish-speaking, part of the country. In Bruges you have the skinhead pub The Moloko, the follow-up to the infamous De Kastelein, where concerts are still held on a regular basis and Bruges also still holds the most bands: The Pride, Les Vilains and Headcase. I am from Brussels, which used to have quite a few skinheads in the early to mid-80's, but it's been downhill ever since. There are now only a few skinheads left in the city, and it has become very skinhead-unfriendly.

What do you think about skinhead scene in Europe?
Too split up, too many people thinking they know it all, too many splinter groups - left and right - claiming they are the real skinheads. It sometimes becomes totally ridiculous. I have a lot of friends around Europe and that's what counts for me, my friends, there is no "scene" anymore. The united skins spirit is long gone, if there ever was one.
Is working in Pure Impact Records your full-time job or if is not, what do you do beside working in Pure Impact Records?
it is full-time if you count the hours I put into it, but no, it is not my job. I do Pure Impact before and after work. For my income I work in a big transport company in the offices, nothing special.
I ever wanted to know, how is it going in some records label. Do you earn some money from each sold album, which is not released on your label? Did you hear all of CDs, which are in your distro? Do the number of buyers CD encrease ? Is some another band on the world, which do you really want to release?
Every CD I sell has to bring in some money. Money is necessary to keep things going, produce new releases and so on. Pure Impact is official, so with that comes taxes, accountants, office rent,... all very expensive.
I am in touch with a lot of other labels and we sell / trade with each other, but there isn't one that I especially cooperate with. In general, when money is involved, cooperation can cause problems. I rather prevent such problems than having to solve them.
And yes, I heard all CD's in the distro, you can tell as all reviews are written by me personally.
The number of buyers is falling fast, not only with Pure Impact, but with most labels / distros that are in our underground scene (not the big commercial ones like Bandworm etc), mainly because downloading is killing it all. People don't want to buy music anymore as they can pick it from the internet for free. That's all fine, but it's hurting the scene and bands, because without CD sales there's no money to invest in other new bands and releases. Lots of bands nowadays are struggling to find labels, I get many requests per week, and have to turn down equally as many.
What is for you the best album, that you have released?
The most significant for me was Best Defense as it was one of my favourite bands, and I managed to release it long after the band had broken up, and after a long search for the master tapes. But other than that, I am quite pleased with all my releases; I only release bands that I personally like or can associate with.
Do you plan some new album release in near future?
Things are pretty quiet now due to a lack of money to invest in new projects. I just released The Righteous, another posthumous release of a Swedish band and it was just too good to let it go to waste, such a good album. 96 Brigade's album "Can you hear us now" is due out in a week or so, and Stormwatch are currently in the studio recording an album which should blow their old ones away.
What music do you listen beside Oi!, streetpunk or RAC?
Some hardcore, some Deutschrock, some ska once in a while and lots of radio at work. With 20+ new CD's per month to listen to already, there isbn't much time left for anything else.
What do you think about bands like Smodati, Hobbit, Stamford Bridge, Paris Violence etc, which dont play typical skinhead music?
I can appreciate various styles and genres, keeps it interesting and I wouldn't necessarily consider them 100% skinhead bands either. I have more problems with black metal and such which as far as it gets from the skinhead culture.
Skinhead culture is nearly connected with football. Are you interested in football? What is your favourite club?
The club I used to support, R.W.D.M. doesn't really exist anymore, it's now become FC Brussels and they play in the second division. I can't relate to the new club anymore and haven't been in 2 years. I still follow the results and watch football on TV, but that's as far as it goes.
Do you have some favourite book and films? What do you think about films Sur Les Paves and Chasseurs de Skins?
No, not really. I work most of the time, so no time for books or films. I collect books on skinheads and have read those, but no favourites, they all have their value. The 2 French films you talk about are interesting to watch as I have a lot of friends in Paris and know all the stories and therefore it's quite entertaining, but that's as far as it goes.
Last comments?
Thanks for the interview. Good luck with the zine and my best greetings to all my friends past and present and all fans of the label. Without you it wouldn't be possible.