Lone Rider - Skinheads Web Zine
---
---
Major Disappointment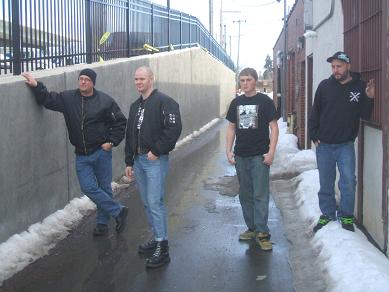 Can you introduce your band?
In Major Disappointment we have Rod on guitar, Mikey Disappointment on bass, J.D. on drums and myself Hans Bondo on guitar and vocals.
Can you say something about bands history?
MD actually started a couple years ago with some song i was playing around with and was going to record. I had a couple friends who wanted to help out with it and here we are a couple years and several line up changes later working on our second cd, releasing a dvd and playing shows.
Have somebody from your band experiences with playing in some other band?
I think everyone in the group has played in bands before. J.D. joined us a week ago when our old drummer left to go be a rock star so we don't know much about him. I have been playing in bands since the late 90s but we are talking underground D.I.Y. stuff. No top 40 hits or anything.
What bands influense you?
As far as influences i would say Slapshot is on the list. They just don't give a fuck. They say what they want. I like that. Combat 84 is another. Cock Sparrer, Condemned 84 and even some of the old punk stuff like Special Duties and Chaos Uk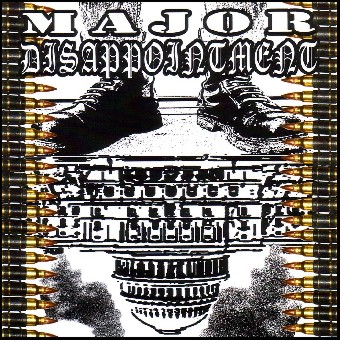 How many concerts and with which bands did you play? What was your best and worst gig?
I think I've played more shows with MD that all the other band i've been in put together . I wouldn't say it was one our best but one of my favorite shows was at a bar here in Michigan that books punk and metal bands. After about 3 songs you could hear a pin drop in that place. Apparently we were a little to real for that area. We played our full set and didn't even make enough money to cover our gas hahaha skinhead rock & roll. The worst would have to be Chicago. It was an outdoor show, hot as fuck and not our best performance. People told me it was a good show but anyone who was there knows the truth
Can you describe scene in your area?
The scene in my town is pretty good. But over all the region doesn't have much to offer from what i have seen. Most the bands try to play the shit music they hear on the radio. Not many people go to shows anymore and with the shit thats out there i can't say i blame them
Do you have some favourite scene?
I like to play on the east coast. It has a raw feel to it. I don't know that i would call it a scene because there are probably 50 scenes on the east coast and they all hate each other. Only been overseas one time but from what i've seen the scenes around Europe are a lot better than what we have in the states
Can you say something about a) Patriot b) Bonecrusher c) Brassic ?
Don't know any members of Patriot, Bonecrusher, or Brassic but i'm familiar with their music. Good stuff. I do like the older Patriot material. Seemed more sincere to me
Do you have some current and old time TOP10?
Wow top 10. That's not as easy as it should be. I listen to oi, rac, old school punk, classic country and black metal. Could do a top 10 for all but in general Combat 84, Condemned 84, Slapshot, Cock Sparrer, Oxymoron, The Diehards, Dwight Yoakam, Skrewdriver, Bobby Bare, Johnny Cash, Dissection, Samael and a bunch of underground black metal that i can't tell what their name is.
Do you have some favourite films and books?
Favorite films i would say Dog Soldiers, the first Rambo, The Day of The Jackal, Tommy Boy, Smokey and the Bandit and the Bourne Identity movies. Matt Damon is a cunt but i like those Bourne movies. Clint Eastwood movies are all pretty good. As for books i mainly read military history
Do you have some hobbies beside music?
Other than music i'm into firearms training, weight lifting and motorcycles
Our future plans are to continue to put out the very finest in abrassive oi. We have shows lined up for april and may and are recording our next cd. Major Disappointment "Bootleg This DVD" will be out soon and hope to have it available overseas in the next couple months
I would to thank Lone Rider Zine. Stay tuned because we are just getting started Let me know if that good. If it suck we can try again haha no but for real Cheers