Lone Rider - Skinheads Web Zine
---
---
The London Diehards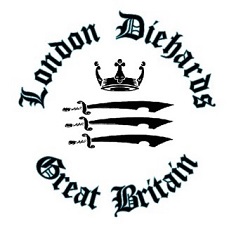 Can you shortly introduce your band?
Tel - Vocals
Ciaran - Guitar, Vocals
Steve - Bass Vocals
Tom - Guitar
Quinn - Drums
How and when did you come into street scene?
Tel, Ciaran and Steve were all around the Skinhead scene in London during the early 1980s and have been into the music since then. Tel used to follow the Cockney Rejects and Cocksparrer when they first started out as well as all the other early London Oi! bands. Nowadays we're just us, still into the scene, with the same attitude as back then and listening to the same bands.
Can you say something about your other bands, where you played or play now?
Tel sings for the East End Badoes and has done so since they started back in the 1980s. Recenlty they've had a bit of a revival and he's still writing and recording stuff for them now. Ciaran and Steve have been in various punk and Oi! bands over the years, notably Retaliator where they first met. Ciaran also plays guitar for TMF. Quinn plays in punk band Rivalries and Tom is the guitarist for Superyob.
How do you manage to play in The London Diehards and your other bands? And how can you combine your work and band?
We manage to work around that OK - we don't do as many gigs as most bands do on the scene for various reasons. We all have to work and have to manage our lives and other bands around that. We still mange to play gigs and record though.
You released two split albums in near past. Can you say something about them? How are you satisfied with them and with cooperation with labels?
The recent split albums are both something we're all proud of. The first with TMF was the first time we'd recorded together and the songs we did then are still part of the live music we play now. The recent split with the East End Badoes and Johnny Asbo and the Young Guns is also another album that we're pleased with too. It was released on PST Records, Sweden who are a great bunch of blokes who promise and deliver exactly what they say they're going to. We've also done a split 7" single with the East End Badoes on Rock 'n' Roll Blitzkreig which is a new German label. They worked really hard to get that single out and have done a great job on it too.
Are you in contact with your past members? What dou you think about Steve´s playing in Avalon?
We're still in contact with some of our past members and some we're for various reasons. Steve's decision to play with Avolon was something he decided to do after we'd parted company so we can't really comment on that. If that's what he wanted to do then thats his decision. It would be wrong to condemn or support that decision as its really nothing to do with us.
Can you say something about life in 80s? I am heading to the song Goulston Street, where was The Last Resort shop. Please, say something about those days.
Life in London was both great and shit at the same time. Shit because a lot of the time everybody had no money and there was very little work and great because there was such a great Skinhead scene at the time. The song London Town that we do really is written about them times and that's what it was like growing up at that time. The Last Resort shop in Goulston Street really was the skinhead place to be at that time. Skinheads would come from all over London, the home counties and even from abroad just to hang around there on a Sunday and during the week too. It was a great time to be a skinhead, but sadly them days are gone now, never to return and its time people realised that and tried to create their own scene in whatever country they live now, rather than trying to bring back the past.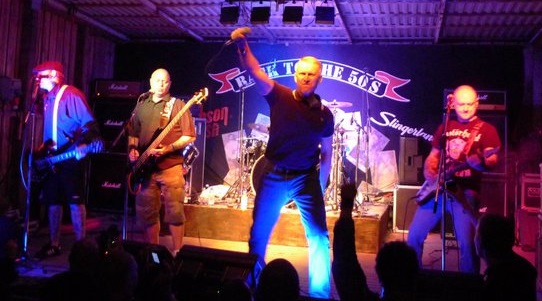 What do you think about today scene in Britain? Are you in contact with The Last Resort, The Business, Sham 69 or Cockney Rejects, who play also on big festivals. What do you think about it. Is it the song Sell Out about that? Can you compare today scene with past?
The scene in Britain is a strange one, in many ways similar to Europe with the big divide regarding politics. We've always tried to stay out of that yet somehow we have been dragged into it by various political extremists and keyboard warriors who think that if you play with X band you are Nazi / Communist / Grey-Zone etc. yaaawwwnnn. We really can't be bothered with the politics of the scene as its more like a school playground the way some people go on and on about it. If you can't think for yourself and need some political ideology to help you think then really, you should try and educate yourself.
As for the bands you mention, we have had contact with some, know some personally. The Last Resort are a good bunch of blokes who we've played with on two occasions. Their last two albums are Oi! classics and are some of the best Oi! records ever made - some great lyrics and music too. The Business are a band that have just kept on going and are the real unsung heroes of the Oi! scene. Back in the late 80s when a lot of people had given up being skinheads, they kept going so respect to them. They're also responsible for some of the best Oi! music ever made. SHAM '69 were one of the most influential punk / Oi! bands ever but Pursey decided to turn into a dick and the rest is history. Musically their early stuff was great, shame it was spolied by a little rich boy from Surrey.
As for the big festivals, well if that's what they want to do that's up to them. We'll never be part of it as it just doesn't sit right with us. From the start, we'd always said that we wouldn't play any of the big festivals and we'd much prefer to do the smaller gigs with smaller promoters who actually care about the scene and don't see it as one big pay-day. The song Sell-Out that we do is about that and some of the bands that play that scene. We'd rather give up than become part of all that.
What bands do you listen today? Do you prefer old or new music?
All four of us listen to different music. Tel is still into his old punk like The Ramones etc. but is also a fan of the Boston punk scene with bands such as the Dropkick Murphys, Murderer's Row etc. Steve is into bands like Killing Joke and Rammstein, Quinn is into US Punk, Ciaran is into Oi!, Punk, Hardcore and Metal in a big way and Tom likes One Direction and Boyzone ha ha .. not really!!
Can you say something about you relationships with Mod subculture? I know, that some bands like Pressure 28 or Superyob play covers of Mod bands, but some bands like Condemned 84 sing against it. Do you listen to Mod bands?
Personally speaking, I never really got the Mod - Skinhead connection. Back in London in the 80s Mods and Skinheads from my area used to fight each other non-stop. The music, dress and all that went with it was alien to a lot skinheads round London at the time, but I'm sure some skins from around the same time will say different. As for Superyob and Pressure 28, they're good mates so if they want to do Mod covers then thats all good. Pressure 28 do a great cover of Time For Action by Secret Affair it has to be said.

Chubby Chris from Combat 84 died before few months. Did you know him? What is your opinion on Combat 84?

Personally, none of us never knew Chubby Chris but during the 80s, Combat 84 were one of the best bands around at the time. Some great songs and some great lyrics too.
How do you remember your show in Vyškov? I think, that you had different bass player. Who is he?
We do remember the show in Vyškov and we really enjoyed. Good Czech beer for 90p a pint - whats to complain about? ha ha ...!! The bass player was Paul, he is actually a bloke who drinks in my local who's been playing bass for years. Steve couldn't do the gig because of work commitments and we were really stuck for a bass player. We may have even had to cancel the gig if Paul didn't step in so cheers to him !
Are there some special gigs, that you remember as best, where you played?
There's loads, mostly in Europe, Kuggnas, Vyškov, Bremen stand out as being great gigs. The gigs at the Moloko club in Brugges are always ones that we will remember as being great, mental nights. Good people, good beer and good bands too, that was really what a skinhead pub should be like.
I saw one gig from Bedford where Tel did not sing. Why? Will you try it on another concert with Ciaran as a singer?

Yep, that was June 2013. Tel had been in hospital with a problem with his knee and couldn't walk so Ciaran had to stand in and do vocals. There's been rehearsals where Ciaran has had to sing so it could be something that would happen in the future, who knows. He already does his own solo stuff (Johhny Asbo and the Young Guns) which has 3 songs on the split album.
If I will come to London, where can I find you on friday night? Do you have some favourite pubs? Can you recommend us, what we must visit in London?
London on a Friday night ... hmmm it all depends on what's on. Camden Town usually, The Devonshire Arms is the best pub around there. The Elephant's Head used to be good but the beer is expensive and there's a lot of hipsters and posers that get in there now which is ruining it.
What do you think about today Carnaby street?
In the 80s, Carnaby Street was the place to go to on a Saturday if you didn't go to football. Now its just a joke, just like any high street with fashion shops that have little or nothing to do with skinheads. Best to avoid the place if you come to London, shame really as it was a great place to hang out during the 80s.
What are your best gigs, that you visited and where you did not play?
The best gig I've been to as a visitor is a real difficult one but some of the ones that stand out are The Last Resort gig the other week in London, the 4 Skins 2 years ago in Bedford or the UK Subs at the Bridge House in London, the place was packed out and the Subs were on top form.
Members of your band have different favourite football clubs. How you can be in one band? Are/was someone part of some firm?
Steve,Tom and Ciaran are West Ham supporters and Quinn is also a closet West Ham supporter. Tel is a Millwall fan but it doesn't cause a problem in the band. Both teams aren't doing too well at the moment so we don't really take the piss out of each other! As for being part of a firm, we all used to go to football back in the 80s and still go now too.
Do you read some books about subculture? If yes, can you recommend some?
We're not really into reading books about skinheads and punks - most of what's been written about we all lived through. I suppose the Spirit of 69 book by George Marshall and the Skinhead book by Nick Knight are good books because we know some of the people mentioned in them.

Last words?

Cheers for the interview and thanks for taking an interest in the band. Keep the faith - Live Bad and Die Hard !!