Lone Rider - Skinheads Web Zine
---
---
Iron City Hooligans

Hello, can you introduce your band?
We're Iron City Hooligans we've been around for 7 years. Tyler the original singer works in the steel industry, Tom the original bassist is a carpenter, Dan, the lead guitar, is also in the steel industry, Nate the rhythm guitarist, is a doctor, and Frank the drummer works in the chemical industry .We're in our 20s to 30s. None of us thought we'd live that long but we did and now we're in a band. Tom was in My Drunk Uncle, Tyler was in State Control with Frank and Matt from The Traditionals. Dan was in Face death. Frank was also in Brutal Epidemic.
You have in your name word Hooligans. Do some football hooligans scene exist in your country? Are you interested in hooliganism?
We didn't intend any sports connotations with hooligans. We're just thugs who like getting drunk and fucking shit up. That being said there are some crews that exist most notably the incident in Columbus Ohio.
Can you introduce you album? How are you satisfied with Rebellion records?
Our first album release was written by original members and released with the current lineup. The Cover Artwork was drawn by Seth, the Former Rhythm guitarist. We're very satisfied with rebellion and Wouter, and its an honor to be released on a label with such great bands like Discharger and Unit Lost.
Note. I think, that Unit Lost did not release any album on Rebellion Records.
What bands influenced you in your music?
Fang, Black Flag, Minor Threat, Misfits, Meat Men, The 4-Skins, Angelic Upstarts, Anti Pasti, A.D.L 122, The Adicts, The Betrayed, Blitz, Bohse Onkelz, The Blood, The Burial, The Business, Cock Sparrer, Cockney Rejects, Combat 84, Condemned 84, Crude, The Discocks, Dropkick Murphys, Endstufe, Evil Conduct, The Exploited, Flatfoot 56, The GC5, Indecent Exposure, The Last Resort, The Loafers, Lower Class Brats, Oi Polloi, Oi Skall Mates, The Oppressed, Oxymoron, Peter and the Test Tube Babies, Perkele, The Press, Retaliator, Sham 69, Sings With Voices, Slaughter and the Dogs, Sledgeback, Splodge, Straw Dogs, Strongarm and the Bullies, The Templars, Those Unknown, Toy Dolls, The Wretched Ones, Vicious Rumours, Anti Nowhere League, just to name a few. We're all over the place with other musical genre influences with our current line-up.
How many gigs and with with what bands did you play? Which one was your best?
We've played hundreds of shows. Most notable were with the Business, The Traditionals and Fang. We try to do our best every show but Hardcore in the Hills with Wisdom in Chains was a highlight. There were over on thousand people in attendance.
How are you looking forward to your gig with Condemned 84 in Toronto? What do you think about Condemned 84? Is it for you legend, that influenced your life?
Tyler listened to condemned 84 heavily when starting the band with Tom. We're very exited to be playing with them.
Can you say something about skinhead scene in Pittsburgh?
It's a tight close knit scene. People have come and gone but those who are true stuck around. It's more about the music and the working class then having a certain set of politics or dressing a certain way.
Do you collect music records?
Yes, we mostly frequent local record stores like out of the ordinary, Jay gets us whatever we want. We frequent Internet mail order stores too like Skinflint, Rebellion of course, Dim Records, Randale, and Pure Impact.
Do you listen some mainstream music?
We're not going public with that info. It's hard to escape listening to commercially successful music and some of it's not too bad but we should be doing better with our lives.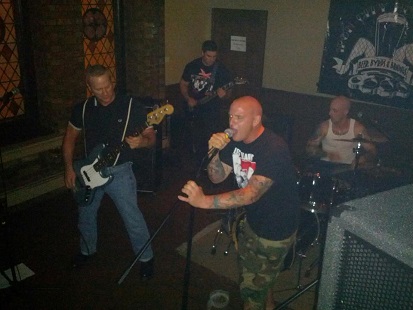 Are you hockey fans? What do you think about Jaromir Jagr? Do you remember him from his playing in Penguins in the 90s?
Tyler played ice hockey in high school and is huge Penguins and Rangers fan. Dan still has Jagr's signature peanut butter. He was a legendary player we wished he would have retired here in Pittsburgh though.
Do you have some hobbies beside band?
Drinking and fighting. We're all heavily into our crafts at work too. Some of us are into mushroom hunting, weight training, fishing, muay thai kick boxing (mad dog killer elite), shooting guns, and other shit.
We have songs recorded for a 3rd release and working on songs for the 4th.