Lone Rider - Skinheads Web Zine
---
---
I Donīt Like You!

Can you introduce your band?
Hey Hey! We are I Donít Like You, a Skinhead Band from Thuringia in Germany! Flo and Andrť play the guitars, Christoph the drums and I am Steve and play bass and sing! We are between 20 and 24 years old! We all work in different jobs in artisanry...real working class!haha Christoph played in a band called Hasselnusser.They played Oi! & Rock Covers. The rest played in a punkband when we were 15=) So nothing important!!
Can you say something about bands history?
We started the band 2006.At this time Lutz have played the drums. We played a lot of gigs all over Germany. In 2009 we recorded our demo and itís now available! A few month ago Lutz leave the band and now Christoph do his job very well!! That was the very short version haha.
Why did you decide to make a band?
We always were on concerts and music is one of the most important things in our lifes...and so we decide to try it! And its great to be on stage and its really great when the people like your music!=)
And another reason was, that more and more skinhead bands were there, but they donít played skinheadmusic...we want to hear the sound we like, and the best way to get that, is to do it on your own ;)
How often do you have rehersals? Do you play some cover versions? Who from band make music and lyrics?
Not so often as we want...we work in different parts of germany, so its hard to have a rehearsal every weekend...but we do our best!
Yeah we play some covers...itís good to have some on your list, if you donít have a record out! We play: Skrewdriver - I Donít Like You(what a suprise=), Skrewdriver-Streetfight(the first version), Endstufe-In die Eier, Perkele-Hang em High, Rabauken-Vaterland, Freikorps-Hafenstrasse. We love this songs and itís great to play them!
I write all the lyrics! Mostly I have a bassline and then we do the rest! Some songs are from Flo or Andrť...so at the end we write the music together.
Whats mean for you to be a skinhead? Are you 100% skinhead band?
We are a 100% Skinhead Band!Skinhead is our life!!
It means for us to be proud of what you are, to have your own way, to love your land and it means friendship and loyalty! Sounds like a clichť...but thats it!
What bands influense you? What are your favourite bands?
Our sound is influenced by bands like Skrewdriver, Perkele, Templars, The Veros, Steelcapped Strength... We like Skinheadbands which have a RockíníRoll Sound...but we donít try to copy them!
Favorite Bands...there are many haha...the bands I said before and bands like Combat 84, Skullhead, TMF, Battle Scarred, Enhšrjarna, KBK, Short Cropped, Endstufe, Kampfzone, Faustrecht, Barking Dogs... And old Punkrock and RockíníRoll Bands like:The Adicts, Clash, Johnny Cash, Elvis...and of course Truck Stop! hahaha. There are way to many bands we like!
How many concerts and with which bands did you play? What was your best and worst gig?
Hard question haha...I donít know exactly how often we played...between 20-30 times I think!!?? We played with Die JungZ, Trisomie 22, Gerbenok, Kategorie C, Bombecks, Spy Kids, Iron Fist, ScharmŁtzel, Hasselnusser, Ohne Worte...and some more...
Most of the gigs were great!Adorf was great, because the people liked us a lot!Every gig in Schwedenschanze...and crimmitschau was also really good...
Worst gig...we played one time to early, around 18 a clock, it was outdoor and so people were not drunk enough to dance hahaha....but every gig was ok!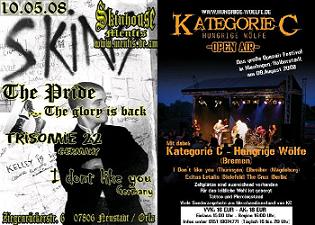 You played with starbands The Pride and Kategorie C? What do you think about them?
We donít play with the Pride...the gig was cancelled because somebody of their band had to work!Really sad because we like them a lot!!!
We play around 7 gigs(i think=) with Kategorie C!It was really great, because we play every gig for at least 300 people! And the crowd sing our songs with us and dance like hell! Indescribable feeling!
We like most of the older albums of KC!They arent Skinheads but they make a really good show...itís incredible how many fans they have!!! We have to say thanks to KC for their help and support!
Can you say something about scene in your area?
We have a good scene!We had many locations around here, like Menfis or Schwedenschanze...2 of the best clubs we ever were!!!But sadly they have to close! But Skinhouse Menfis do now concerts on different locations! Here are older and younger Skinheads who stand together...thats great! But in the last time there are more and more people who think political correctness is more important than friendship...itís like everywhere:the scene goes to the left...
Do you know something about Czech scene?
I never were on a gig in Czech Republic...but i visit your country and like it! I heared, you have a big scene too!True?
We saw the band Disdainful in Skinhouse menfis 2 times!They are damn good!I like their powerful sound!And itís a good life band!
And you have great beer hahahaha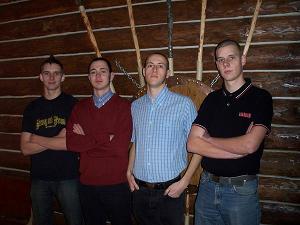 Can you introdukce some new bands from Germany or World, which captivate you?
The band Ohne Worte is really great!Itís a young band from Sachsen and friends of us!They have a good sound and always some nice covers on their gigs!
And The Angry Bootboys released their first album now!Itís a non PC Oi! Band which donít try to be trendy!Listen to them, I think you like it!
And there is this project I.C.1...they put out a record(think beginning 2009)which we really like, but i think many people have it already...so no insidertip haha
What do you think about a) Brachial b) Spy Kids c) Gerbenok d) Bombecks e) Kampfzone f) politics in scene g) Spirit of 69 ?
a) Brachial - Fantastic band with an 80ís Sound!
b) Spy Kids - Awesome band!One of the best life bands!!!Schmottey is crazy=)
c) Gerbenok - Good friends of us, which play very good & honest Oi! Music!
d) Bombecks - Maybe the most famous band of Thuringia!Itís every time a honour to play with them!But they take a break rignt now...hope Bombecks donít split...
e) Kampfzone - Definitely one of the best german Oi!Bands ever!!!
f) politics in scene - The old story...nobody is really unpolitical...if you say something/ sing against society, its an pol. Statement!We think party policy is bullshit...they only do it for the cash and not for the people!Friendship is more important than policy in the scene...but we are born GDR and we know that communists are liar...and Oi! Ainít RED!
g) Spirit of 69 - We are to young for that...itís ridiculous...If you see kiddies who are 15 with a spirit of 69 patch!Live now and here!!!!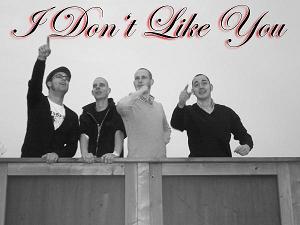 Do you have some hobbies beside music?
We do some kind of sports...like Snowboarding, running or stuff like that! Tattoos are also a thing Christoph and i like a lot...a very expensive hobby hahaha. And of course drinking!
But the biggest hobby is the music!Not only the playing, also to go to concerts!We love it!
We try to record this year a full length album...hope it will works out!
And of course we want to play as often as we can! So if anybody wants to book us, send a mail to i-d-l-y@web.de !
Thanks for your interest! Get a copy of our demo at Adler-Versand, Pure Impact or send a mail to us!
Cheers to all the bands we play with, to Jonesy & Teun for their help with the demo, to our familys and of course everbody who likes and supports us!