Lone Rider - Skinheads Web Zine
---
---
Gerbenok

answers by Stöbi (october 2009)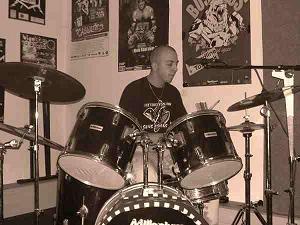 Can you introduce your band?
Stöbi: Hello to everyone who reads this and a big "Sorry!" to you Pejchy, that answering the interview took so long. Our band is called Gerbenok. We play truthful Oi!- music with critical content. Our current lineup consists of Bodny on bass, Roger on guitar, Mullei on vocals and me, Stöbi, on the drums. To date it's the third lineup we've had. For reasons of data protection I'm not gonna say how old everybody is ... Joke! ..but we are all in our twenties. Two members are working in jobs in the metal field, Mullei is an electronic and I..m doing my technical ingeneer.
Can you say something about bands history?
Stöbi:Yes, I can! Gerbenok was formed in the year 2003. We're not and we never have been a pure skinhead band. Our vocalist is Psychobilly, I personally am punkrocker the same as our ex-guitarist Lars. Bodny is a skinhead and Roger wouldn't class himself in any subculture, but playing this kind of music is very important to him. When we first started making music Lars was the guitarist. Nowadays he..s a proud father of two girls, spends his time taking care of his children and just occassionally plays the guitar.
We came up with a lot of songs in a short period of time and so we were able to record our first demo CD "Tribute to Proberaum" with seven songs by the year 2004. This demo sold 300 copies and so we had enough money to buy a system for singing.
After this Pascal of the Label KB-Records took an interest in us and released our first longplayer "Wer zuletzt lacht.." (means: Who laughs last..) in the year 2005. In the next years we were playing many gigs and there were many rumours about us. But we give a damn about this shitty rumours and see them as a motivation to carry on. And so we released a split single with the skinheadband Unantastbar in the year 2007. During the recording of this album we got a second guitarist called Fussel who left the band a few months later. At the moment we are again 4 members and going to release our new longplayer in the end of 2009.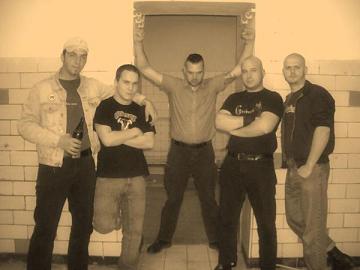 Have somebody from your band experiences with playing in some other band?
Stöbi: For sure. Actually each of us. Our singer used to play in 2 unknown punk bands more than 10 years ago. One of them was called "Mooos" The other one I don..t know.
Roger, our leadguitarist used to play in a band called "Moral Conflict". This band actually was quite good with a great sound but they never released anything. Our Bass player Bodny was one of the original members of the skinhead band "Schusterjungs". I think you know them? But today they are very arrogant and have got many problems with drugs or so. That..s not our scene anymore. But they are playing very good music. Well, I was drummer in the band "Krawallbrüder" in the year 2008/09 and played with them at the Subculture Festival in your country. Besides Gerbenok I..m also vocalist and guitarist of the band "Martens Army". To do some advertisement, check this out: www.myspace.com/martensarmy
What bands influense you?
Stöbi: Well, I've read this question so many times before and for me it..s hard to give an answer. I think we can't count all the bands we are listening to. But in the end most influences come from our personal lives. Everything that is happening around you and me every day is put in our lyrics by us and given to you. And the music comes from the heart. Our influence is the street life, the skins, the punks and the feeling to live our own way. And I think every oi or punk band do it like that. Now you know why it..s so hard to say which bands influence us.
How many concerts and with which bands did you play?
Stöbi: Oh my goodness. It was more than 50 gigs but less than 100. Anyway we..ve got work, family and need to practise songs and so on. Every second club gets excited when they hear our name. Many of them say;"sorry, no! You can..t play here!" ...such cowards! But here in Germany that's what is gonna happen when you speak out what you think. But in the past we've already played together with bands like Krawallbrüder, Perkele, Haggis, Battle Scarred, Crusaders, Trabireiter, Unantastbar, Towerblocks, Punkroiber, Get out and many more.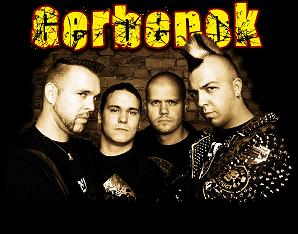 What was you best and worst gig?
Stöbi: Cool, what a simple question. Our worst gig was in a village called Hohenweiden. It was a party for the opening of a new underground shop. We all were very very drunk, didn..t play our songs correctly and after the gig I fell asleep behind the drumset. But nobody needed to complain about us because admission was for free this evening.
Our best gig we..ve had was in Zürich (Switzerland), where we played with Perkele. People really didn..t know us but by the first tunes of the guitar the hellstorm broke out and the perspiration dripped down the ceiling. And after a little armed conflict because of a hippie, the whole room demanded us to play our song "Die neuen Hippies" again.. It was a great evening.
Can you say something about scene in your area?
Stöbi: Well, I..m living in Leipzig since May and so I really can say something about our scene. There are many of Punks & Skins with a correct opinion. Like everywhere, there are also a few fools on the road, but I think it is a good feeling to live here. In this area ordinary people attract more attention then a person with a mohawk or a skinny haircut.
In Weißenfels, the place the people of Gerbenok were born, the scene is also really big for such a small town. But it..s so that the younger ones are kicked in the ass by the older guys, althought they could be happy that there are a few girls and boys having decided to live this way of life. And other ones are much older but came from the right winged corner and disfigure our scene with their bullshit. In the past we were bashing each other and today we had to endure and drink beer together? No, that..s not our thing! The younger lads like to come to us and have a laugh and have a say but the older ones better stay shere their life and take their drugs if they want. Loosers!.
You can see that we are a very big scene but we don..t really stick together. This must be changed!.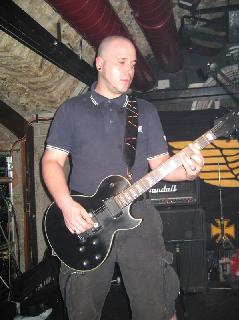 Can you say something about a) Tower Blocks b) KrawallBruder c) Endstufe d) Skinhouse Menfis ?
a) one of the best Oi-Punk Bands who exist in Germany and who give a fuck about political correctness.
b) our friends and a band with great success, but never forget were they came from.
c) one of the first skinhead bands in Germany, but unfortunately very disreputable because of the lyrics against punks and foreigners.
d) we've played there too for a few times. But I think it..s a bad thing that this pub attracts many stupid people with a sick political opinion..
Do you know something about Czech scene?
Stöbi: No, not very much. Once I was a visiter of the subculture festival and there were many people. But also many from Germany. But I've already listened to some good bands from your country.
Ähm... Please don..t be angry if I mix bands from Czech Pepublic with bands from Slovakia, ok?. Correct me if I get it wrong.
Zatiatok Konca, Incident (a very good LP "Streetsynphony"), Horrorshow, Dr. Pako (don..t know what they are singing about but by listening to this music I get goose flesh) and Distainful (seen them live at skinhouse menfis. Very nice Bass-girl J
note . Zatiatok Konca, Incident, Dr. Pako are from Slovakia and Horrorshow is from Poland.
Do you have some current and old time TOP10?
Stöbi: I don..t know. I never watch VIVA or MTV.
It..s also a question what is hard to answer. I can..t say which band is at what place in my personal top 10. There are songs you listen to again and again, because they are very good or you..ve got some memories with them. If I get new music I listen to it a few times. Either It..s great for me or not. After a while I make the decision wether I must listen to the music once more or not. But I think you wanna know some band names:
Well, I like bands like Perkele, Cock Sparrer, Rabauken, 4 Promille or Klamydia.
I could tell you such more bands but I can..t say which is my Nr. 1 or my Nr.10.
Do you have some hobbies beside music?
Stöbi: Making music is my only hobby. Because I write all the songs of Gerbenok and Martens Army I don't have the time for other hobbies. For a few years I had a fanzine called Streetwar, but I cancelled the plans because now making music is my hobby. I don..t know if Roger or Mullei had some hobbies. But Bodny builds little figures, railways and landscapes in model. This hobby is very interesting, but he hasn..t got the time to do this anymore. We all grow older and have tasks that are more important now. Some day when we're very old and not working anymore I can tell you what new hobbies we will have, ok..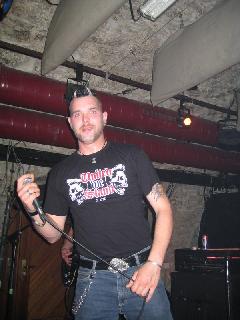 Stöbi: Sure! We are working at our new record at the moment and we hope we can release it at the end of 2009. I think that's enough future plans for us. My personal plan is to find new musicians from the scene who wanna support me and my project "Martens Army", so that we can release a record, too. Well, as you can see all my plans are about music. And on 21st November, we will play in your country with bands like Lumpex 75, the Riot and Operace Artaban. Hope we'll meet there and you can tell and show us something about your country.
AND WE WILL TEST YOUR BEER!!! Hope we get drunk... hahahaha.
Stöbi: Well, thank you for yout interest in our band. We wish you good luck with your fanzine and send you and your readers a lot of greetings.... Cheers and never give in!....