Lone Rider - Skinheads Web Zine
---
---
Citizen Keyne

Can you introduce your band?
Oi Oi, we are Citizen Keyne a 5 piece punk/oi band from sunny England, we all currently live in or around the Buckinghamshire area. The band are made up as follows:
Chelsea John - Vocals (songwriter) - age "in my forties" works in the car industry.
Floyd - Guitar (songwriter) - age "in his forties" professional PlayStation 3 player.
Daz - Backing vocals and all round midget nutter - age "in his forties" works for a well-known petrol company.
Tom - Drums - age 21 works as a bouncer/security guard.
Ryan - Bass - age 21 works for the health service.

Can you say something about your history?
CK were formed about 7 years ago by myself (Chelsea John) and Daz. We had been to a well-known festival by the sea and decided that we were going to start a band and play the music we wanted to hear. So an advert was placed in a local newspaper for a drummer and bass player and the first line up of CK was born. Over the years we have had a lot of linep changes with only me and Daz left from the original line up. Floyd is our second and by far best guitar player and he write all the tunes, Ryan is our 3rd bass player and Tom is the 4th drummer. We are hoping to keep this line up together as long as possible as it's the strongest we have had ability wise and also we all get on really well as mates and that's an important factor for any band.

Have somebody from your band experiences with playing in some other?
Over the years we have all mucked about in other bands but the only serious ones worth mentioning is Floyd. He has played drums for a few bands and is the guitarist for the superb Tendons who are a filthy punk band, you should check them out. He was recently playing guitar for Condemned 84 and played for them on the last USA tour and is the guitarist on their latest album. I am pleased to say now that he is back with CK 100% though.

Can you introduce your discography?

Ok we have 3 albums of our own -
Ungreat Britain, Stand Proud, Unity, Limited Edition CD single featuring - Punk Not Fashion and Police State.

We can also be found on loads of compilation albums, some we didn't even know about so if any readers find us on something I haven't listed let us know so we can add it !!!

Compilations :
Is This England, Punk & Pissed, Rule Britannia, Oi ! We still say fuck you

And many others that I can't remember the names of sorry !

What are your lyrics about?

Anything and everything really. Pretty much based around real life experiences and what's going on around us at the time. Many are serious but we also have a some fun songs which still deal with things that piss me off as well such as Car Boot sales and Chavs ! I don't really have a set subject matter to write about, I get an idea in my head or see something in the street or on the news and if the mood is right then a song will come out of it !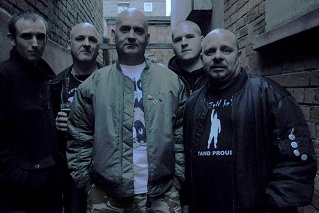 Can you recommend some new bands from your country? What do you think about new bands like Booze & Glory, Skinfull, London Diehards and other relative new bands?

The scene in England is getting stronger, we have started to get all the right wing crap directed at the scene but this time all the bands have stood together and told them to fuck off which is a positive thing. We have nothing to do with politics we just like playing music and drinking beer. CK have played with all of the bands you have listed above and I can honestly say that every one of them is a fine act and all good mates of CK. Other bands you need to look up and support are Pressure 28, Insane Society, Rotten Apples, Adverse Society, The Black Marias and Bakers Dozen. All top quality bands and top quality people.

Do you know something about Czech scene?

Not a great deal to be honest with you, I have heard a few Czech punk bands like FPB but not a lot else. Obviously there is a good scene though as you are running this zine so all credit to you. I would be interested to learn and hear more from the scene over there so if anyone fancies emailing us bands to check out them please do citizenkeynepunx@hotmail.co.uk.

Which bands do you usually listen? What are your TOP albums?

Well as you can imagine we get to listen to loads of bands on the road but I would say the ones I listen to at home and in the car are:

Pressure 28, Black Marias, Old Firm Casuals, Born to Destruct.
My top 5 albums of all time in no particular order:

Pressure 28 - Unified
Sex Pistols - Never Mind the Bollocks
The Rezillos - Can't Stand the Rezillos
Cock Sparrer - Coming Home
Citizen Keyne - Unity

Which CD or vinyl did you buy last time?

Last album I actually paid for was probably the latest London Diehards release.

What do you think about mod or ska? Do you listen that music?

I can take it or leave it really, I think mod/ska music all play their part in defining punk and oi. Whilst I probably wouldn't sit down and listen to a mod or ska cd from beginning to end there is a lot of the kind of music that I like and it certainly gets the crowds dancing. If you have never seen a Oi gig crowd when Monkey Man comes on then you haven't lived its fucking awesome ! I would say that I do like a lot of the Mod fashion though very smart and clean and tidy, not dissimilar to Skinhead.

What do you think about football fanatism? Which football club do you support? Are/were you in some firm?

Well I am the only real football supporter in CK and to me my football club is as important as breathing ! I am a Chelsea fan as you may have guessed from my nickname. Well in my younger days I was a naughty boy at football running with a firm from Chelsea causing fucking chaos wherever we went but I have sort of grown out of it now although a trip to Stamford Bridge and meeting a few of the old faces on match day a few beers and anything can happen. Just ask Cardiff a couple of years ago !!!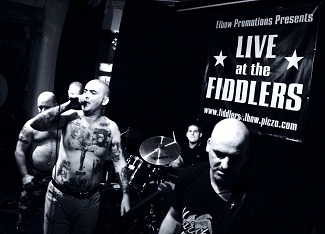 Can you say something about common life in England?

It's not really a life its more about survival at the moment, times are hard here as they are everywhere, crime is on the increase because the Government fucked us over as usual and we need to live. You may have seen the riots recently in London and other UK City's which pretty much sums up the feelings of the people right now. But as usual all we will do is moan about it instead of trying to change it.

Do you have some favourite films and books? What do you think about films like Football factory, Cass, Hooligans or This is England and books like Skinheads (John King) and Cass Pennant´s books?

Films: The Firm ( both versions) not the Tom Cruise shit either, Clockwork Orange, The Wizard of Oz
Books: I read a lot of autobiographies about random people many of whom I doubt you will have heard of, last one was Phil Daniels ( Jimmy in Quadrophenia )

Well the hooligan books have their place, the original ones by Cass and Hickey and Bill Gardener etc were very good and worth reading, but them all of a sudden 100's of books appeared with everyone trying to cash in on the scene and to be honest most of them are complete fabrication and bollocks. Its fucking amazing how many times our Firm got "done" by these little firms according to the books they write, either I had amnesia or it didn't happen!

Do you have some hobbies beside music?

I am a part time tattoo artist which I really enjoy.

Some future plans?

Get pissed have a laugh. 4th Album. Couple of split albums in the pipeline with Close Shave and Old Firm Casuals.

Last comments?

Yeah cheers for the support mate and any one reading check out our website www.citizenkeyne.com and keep in touch with any old bollock we would love to hear from people from Czech.