Lone Rider - Skinheads Web Zine
---
---
Brutti E Ignoranti

Can you introduce your band?
If I should write you the story of the band as I did in other zines it would take 2 pages just to tell you about this and would be really boring, just think that since we started we changed 11 lines-up, they could do a football team called ex brutti e ignoranti!! Nowadays we are: Ricu (me), 30 years, I come from Brianza (north of Milan) I am unemployed and I outlive drinking every kind of alcoolic beverages and bothering people and doing some little extorsions sometimes...in a few words a wasted life! Marco is 32 he plays guitar he is jobless too and he went living with his girlfriend in Vigevano area (south of Milan), as you see he wasted his life too and he is 2 years older than me Teo is the drummer he is 29 he lives in Casale Monferrato (close to Turin) but he dosen't like wine and that's really strange he is jobless too and he wasted his life as us Franco is 20, he is our bass player, he comes from Turin, he has a job and he moved in Bergamo to live with his girlfriend, as you can see youth generations want to build themselves a future!
Can you say something more about your discography? Why did you do split EP with The Warriors?
Why not? do you think we were not deserving to split with them?? Anyway for now our discography is: Alla faccia vostra CD and LP version, split 7" with Warriors but according to you were not good enough...sorry for you we did it anyway! 7" compilation edited by Twisc Records with Booze&Glory and Olfashoned Ideas in 2 different versions, and this became soon a rare ithem, and 7" Il gossip della morte released by MFS
(note. I was there maybe misunderstood, because I think, that the split EP with The Warriors is really great.)
What are your lyrics about?
They talk about our life that's a bit a fucked up one as you can read from our first answer, so they talk about oi!, alcool and sluts, sluts, oi! and alcool, alcool, sluts and oi!, put it down the way you like it but in the end these are our topics, we don't like writing about what we don't do like conquering word holding a AK47 or the Gulf War so we speak about the daily bullshits we really do in our life
Where do you get inspiration for your music?
From our daily shittu life...this morning I forgot to take my pills so I am a little bit depressed!!!
Can you say something more about scene in your area?
I could write you a book about it but I'd prefere using liquid shit I expelled from my ass this morning which is black as guinness!! In our area there are only political factions, among all this shit we try as we can to survive but it's not so easy, even because we are accused by one side to be fascists and from the other one to be communists, but we got used to that and this slips away from us, among all this dung we try to carry on our own scene even if numbers are not on our side and with really big sacrifices we go on organizing punk and oi! gigs and getting drunks as fuck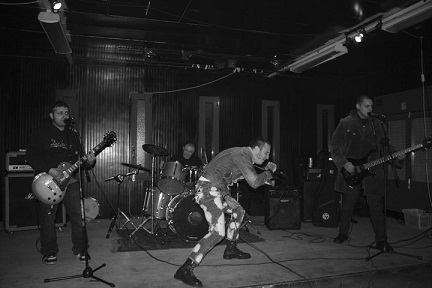 Can you recommend some new bands from your country?
Well, if I really have to be sincere I don't really know who recommend,I guess none because in one way or another everyone kiss ass to a political faction to get more gigs...I only recommed The Stalkerz who come from Italian Switzerland so they are neutral
How do you remeber your gigs in UK? How did you get in touch with Urban Scum?
We are not anymore in touch with Urban Scum because they dissolved and for what I got it seems they all changed their lifestyle except Coz, their guitarist and Jules, his wife and I take the occasion to greet them here!
You have played some gigs in Belgium. How were them? How was your gig in Moloko? I think, that it is great place.
About Moloko we played there twice and for this in Italy we got accused for months to be the worst nazis and we got banned from several places, I tell you this just to link it to the previous question about italian scene,can you see what shit is it? Gigs were both great, we are proud to be one of the few italian bands who had the chance to play in a skinhead temple like Moloko.
I was only on one your show. It was in Wegeleben and it was interesting to see, how was audience changed. There were a lot of strictly your fans. How do you remember that night?
I see with pleasure that you liked Wegeleben, I am really happy because I really don't remember a fuck, I was dirty drunk all I remember is that I was drinking stong drinks in a lofs and that they came to take because I couldn't do the stairs...hahahahahaha, so if you were there you are one of the few ones who got our 7" compilation.
I know, that you are from Milano. Can you imagine your gig with Malnatt? I think, that you have them in thakslist on your CD.
ahahahahaha well, I have their first cd, I bought it years ago, and I could see them live too but this is really ages ago, I have to say that their style is very different from ours anyway, they are very technical when they play while we are very drunk
Were you on some gig in Skinhouse Milano? I know, that there were some Oi! bands like Get Out, Headcase or Condemned 84.
Yes, but as I told you this was really ages ago and it's just about me, I saw many great bands in the old skinhouse, but above all the one I mostly liked was The Jinx, maybe because I always was in love with punk!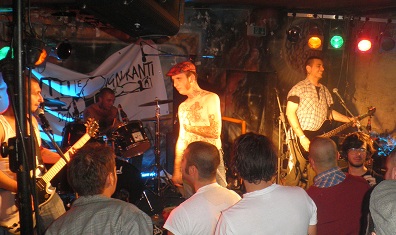 Can you say something about New City Rocks, Klasse Kriminale and Nabat?
New City Rocks I have a vynil and I like some songs but I can't say more because I could not see them live, Klasse Kriminale to be true I never really covered them, Nabat are part of those reunion bands which are becoming more and more common...who knows why!
Can you say something about Barracuda or Pull The Trigger Records? Are some other interesting labels in Italy?
About Barracuda I don't know what to say, they have a good internet site and they are well provided with lots of interesting stuff, PTT is our label, follow us on fb because we are beggards and we don't even have the money to do a good website..lately we have produced some interesting band like Plakkaggio Hc, blood 77 and don't forget....
Are you going on gigs, where you dont play? Which were the best, that you ever visit?
Of course yes...what should I do then in life? Telling you what has been the best is hard because everyone is great in his way, maybe I have fun more at some unknown band's gig than at a famous one's live, I can tell you that last gig we organized with English Dogs was fuckin great, really
Are you collecting vinyls or CDs?
I sold them all to go drinking...
Do you know something about Czech scene?
Straight away I just have in mind two bands which are Pilsner Oiquell which I like and Operace Artaban which don't make me crazy musically talking
release this cd as soon as possible because it's all ready
Until there is beer there is hope