Lone Rider - Skinheads Web Zine
---
---
Brutal Skins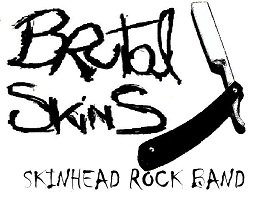 Can you introduce your band?
Of course, brutal skins, is formed by: Gustavo on bass, byron on drums, sebas on guitar and voice Fernando. Most averaged between 20 and 25 years, Byron is the youngest at 16 years. We come from different regions of our country CHILE, Lampa, Valparaiso and two of us are from Santiago, Chile. 3 of us work, sebas works in a factory, Gustavo works in a sawmill, I (Fernando) electrical work, byron is a student. Brutal skins, born in 2010 and after doing the demo, there were musical differences that led to a break in the band and totally separated after the death of former drummer in late 2010, now in 2011 is achieved re assemble the Band but only I (Fernando) remained from the original. Brutal skins previously were all in the formation of other bands: sebas at (Workers Struggle - 2007 - 2009), Byron and Gustavo on (riot skins - late 2011 - early 2012) and I (the birras oi! - 2005 -2008).
Which bands are for you the most influental?
I think evil skins, the templars, the veros, combat 84, are our biggest influences, but our musical influences come from childhood, we do not just skinhead bands as influences, like in music or lyrics. We have influences from life we have.
What are your lyrics about?
Our lyrics speak of things we have lived, letters to get up again and again, fighting and nights in a cell, friendship and pride that few have
Can you say something about your demo record?
Of course, this demo is the living example of how difficult it was to keep this band stand, we recorded it, with our first training in early 2010, and now, in 2012 goes on sale for a European label, which label we are very grateful!, was not at all easy, keep the name of the current band in the ears of the skinhead in Chile, even with bombers trying to destroy something that is not achieved with lies and false faces, only with effort !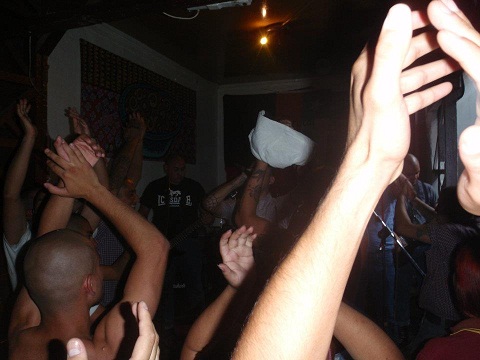 How many gigs and with which bands did you play? Can you say something about your concerts?
From brutal skins, we have: one in 2010, two in 2011 and one in 2012, we always play with Bootboys band that we have an unbreakable brotherhood! Also played with comando suicida in 2010, band from Argentina since the eighties. Also played once with riot skins and bootboys now in 2012. Here in chile, the concerts are few, there are not many bands, and there we travel many hours difference or just no communication, but there is only one band with we have no communication. hahah
Can you say something more about scene in your country?
The scene in Chile is divided by one side are those who want to have fun making music for the skins, without distinguishing whether new or old, if you have a dark past or not, try to do the right thing, while anyone on one side, the other side are those who are dedicated to the destruction of the skinheads, we are trying to do something without putting barriers in front. soon will leave a label in chile, for bands of Chile and abroad, who are newly born, they got five bands already!
Is it problem for you to play gigs in your country?
As I said in the question above, travel times and monetary costs that this brings makes it difficult, we do concerts and try to do them well, for all who attend one, want to attend again , but the more bands come to light will be made easier
Are you going on gigs, where you dont play? Which were the best, that you ever visit?
I personally am not going to concerts here in Chile where brutal skins do not play, to Chile have been great bands like Cockney rejects or business but all organized by antifascist organizations and red skins organizations, which do not support
Do you know something about Czech scene?
Not much really, we have only heard operace artaban and aeibis heard a while ago.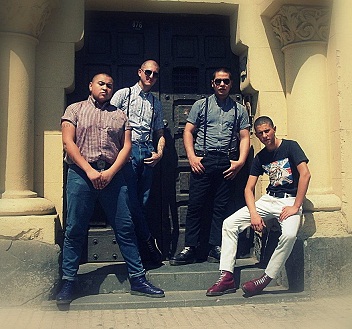 Which bands do you usually listen? What are your TOP albums?
Right that can be: The Veros - The Lost tapes, Section 5 - Street Rock´n´roll, The Templars - Dans La Catacombs, The Last Resort - Skinheads Athems, Evil skins - Une Force Une Cause Un Combat, Combat 84 - Ordes Of The Day , Condemned 84 - The Boots Go Marching In, Close Shave - Lone Riders. I think that's are our top albums hehe
South America is famous for football fanatism. Are you interest in hooligans life or Ultras?
(Fernando) Many years I was in the hooligan life, but that was left behind a couple of years, others in the band like football, but had no hooligan life, the song of our demo, hooligans y ultras, is of my life in those years.
Can you say something about common life in Chile?
life in central zone of chile is difficult, there is much severance, and too much drug dealers, and too much delinquency, you now a knife in the dark! Then you must figh and be a good fighter if are more of just one hahah. But the good news! We got good bars to drink! hehe that's important and beautiful all be forgotten with a few beers, and the chileans we are good people to know.
What do you think about religion?
is an issue that is not talked about much here, we do not follow any church, here's all kind of religions.
Do you have some hobbies beside music?
I think do not have hobbies, you know, drinking, fighting, girls, normal, apart from brutal skins, we have "real evil skins crew" is the organization that we have with Bootboys, to make gigs, called "skinhead rules ok" and we are in the 3rd edition. where we have at least 4 bands.
Some future plans?

our future plans are many, personally do not ever stop dreaming of doing great things for this decayed scene, keep making music with brutal skins, and continue pushing for more bands to help them get their records. always dreaming big things for all skinheads in this country!. We want a big scene, not a little scene whit mom, dad, the dog and the neighbor there haha, full of skinheads in our gigs, friends or not, they must go to our gigs.

Last comments?
First, thank you, for space and for your interest in brutal skins. skinhead beat records thank you for the opportunity to enter the European market, will always be grateful for that!, thanks to our supporters in Chile and abroad, and those fans who remember us daily;) hahah, special greetings to the bands: Bootboys and skins train, and tell the skins, that his path should take their own decisions, and don't do what another person says you make.