Lone Rider - Skinheads Web Zine
---
---
Alessandro (Viterbo Skinhead Crew)

Oi!, can you introduce your person?
My name is Alessandro, i'm 20 years old and i'm a member of Viterbo Skinheads crew. Viterbo it's a small town near Rome. In my life i work as a courier. In our crew we are 8-9 members, the very first skinheads from Viterbo appeared in the early '80s and were mostly into football and expicially in the "ultras" scene, after in the 90' born the first oi band called Razzapparte(1995). In the 90's in Italy the scene is very politicized and in Viterbo there was a SHARP chapter called Viterbo sharp. Today our crew is apolitical (no sharp, no rash)but we stay strictly antifascists.
Can you say something about scene in your city?
In our city there is a great scene, there are some hardcore and oi bands, Viterbo skinheads is a member of another crew called Tuscia Clan and we are 15-20 people(skinheads and hardcore kidz) and we organized many punk-oi and hardcore gigs. If you visit our myspace (www.myspace.com/viterbo_rebels). it's possible to see the photos of our gigs.
Are you interested in Ultras or Hooligan scene? What do you think about it? What is you favourite club?
I'm not a ultras, but the ultras movement in Italy it's very strong. We support the club of our city (Viterbese) and another clubs: Juventus, Roma, Lazio.  
Do you arrange some gigs?
Yes we organized many gigs because we love the music and we want expand the scene of our city.
I'm listen some types of music: oi, punk, hardcore, hard rock, glam rock, rock'n'roll, ska, rocksteady.
Are you interest in scooters?  
I'm not interested at the scooter scene but in Italy in the last years is very popular, there are many meetings and all nighter with dj ska, reggae, northern soul, rocksteady.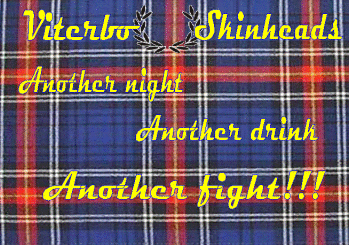 Do you know something about scene in Czech Republic?
About scene in Czech Republic i think there is a really good scene in expanding, there are many important bands as Operace Artaban and Disdainful and the 4subculture record is a great label.
Can you say something about scene in Italy?
In those latest times italian skinhead scene is far more united than before, and less tied to politics (but always against fascism) rash or sharp are disappearing as associations (left some exceptions). Our scene is heavily apart from the 88 skins since 1982, when violent clashes happened in the 3° national meeting in Certaldo near Florence.
Can you say something about : a) 4 Moors, b) ADL 122, c) Basta, d) Armco e) Arrogants f) Billy Boy E La Sua Banda, g) Bloodline, h) Calcio d'Inizio, i) Ciurma Skins, j) Civico 88, k) Evolution So Far, l) Hate For Breakfast, m) Klasse Kriminale, n) Kontatto Estremo, o) Legittima Offesa, p) Los Fastidios, q) Nabat, r) Nativi, s) Payback, t) Plastic Surgery, u) Porco 69, v) Reazione, w) Skin Army, x) SPQR, y) Stato Asociale, z) The Casuals?
4 Moors : bleeding great band!(two members are now on Roll Call band)
ADL 122 : great band by music, but we absolutely do not share their ideas.
Armco : As ADL 122.
Arrogants : don't like
Basta : a milestone for the italian scene, great!
BillyBoy e la sua Banda : they split several years ago, but they were a good band
Bloodline : i don't like them
Calcio d'inizio : don't like
Ciurma skins : great sardinian band !
Civico 88 : no comment
Evolution so Far : good hardcore combo
Hate for Breakfast : no comment
Klasse Kriminale : one of the greatest italian punk bands, history of Oi!music, out soon their new album
Kontatto Estremo : don't like
Legittima Offesa : as ADL 122
Los Fastidios : before they become a political group, they were a decent band
Nabat : godfathers of italian Oi!Great!
Nativi : never heard
Payback : greatest Italian and maybe european Hardcore Band
Plastic Surgery : left apart the glorious " Rivolta", don't Like
Porco 69 : No comment
Reazione : grat band, known and apreciated all over the world
Skin Army : Reazione's singer was in that band, no great musicians i think.
SPQR : no comment
Stato Asociale : no comment
The Casuals : quite good band
Can you recommend some bands, that I didnt mention?
Automatica Aggregazione, Gli Ultimi, Bull Brigade, Pinta Facile, Razzapparte, Roll Call, Tear Me Down, N. C. B., Brutti e Ignoranti, Plakkaggio HC; Colonna Infame Skinhead, Duap and Banda Del Rione (old italian glories).
What do you think about Odiati E Fieri webzine? Can you say something about other zines or webs?
Odiati E fieri is a good 'zine for the rac bands. This instead is the greatest 'zine/forum for apolitic scene www.rudeness.it/webzine .
What do you think about Barracuda Records or Anfibio Records?
Barracuda Records is an 88 label connected with Skinheads88 Network. Anfibio Records is a Sharp label connected with the leftwing. Said that, both distribut apolitic bands as Evil Conduct, Veros, On file.
Can you say something about skinheads crews in Italy and about Veneto Fronte Skinheads?
The first powerful skinhead crews in Italy can be found in Bologna in the early Eighties, then in Rome, Genova an in the North-east, all those crew sticked together in the name of fun and oi! the very first skinhead meeting took place in Monza (milan) and everything seemed to go in the right way the next in Bologna showed the first rucks for political and territorial reasons the third meeting, due to an heavy ruck between Roman And Florent skins, was the beginning of the end. after 1983 the COI (italian OI! committee) for the fist time put out the extreme right bands from the next Oi! compilation. In the same year the North est crew, banned from the nabat's gig in feltre for flyng an italian flag (they say), made radical her position and created the Azione skinheads and VFS crews. Genova remained a castle for the apolitics and redskins, Rome was splitted in the red S. Lorenzo and the Black Centre of the city, Bologna left all behind. Today the greatest crews are for Rac : Milano Skinheads (skinhouse), White Kriminals (Bologna) ; for the apolitic antifascist scene : Real life Army (Reggio Emilia) Scarred For Life and Rash (Roma), Nord Est Crew (Marghera) Still Standing Army (South) and the now splitted Perugia Skinhead Crew.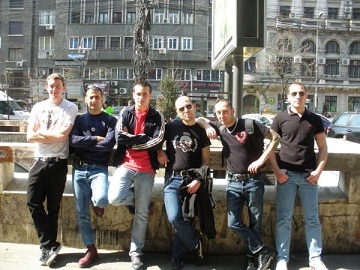 Can you say something abou clubs in Italy? I know only Skinhouse Milano.
Skinhous is a place only for Rac /88 bands. the rest of the bands play in some good places like CPA (Florence), La Strada (Rome), Rivolta (venice)... actually few places like pubs and clubs let the apolitics skinhead bands play, it'a all about CSOA(squats), but they aren't all dirty, some squats like La Strada, Grottarossa are clean like clubs.
Skinhead is a way of life, respect your culture and keep the faith.