Lone Rider - Skinheads Web Zine
---
---
The 96 Brigade

Can you introduce your band?
Im Josh from the 96 brigade. Im the only member of the band. The 96 brigade started as a studio project, just because I had a head full of ideas that i wanted to get out. I play all the instruments on the recordings, and I produce it myself.
Can you say something about your history?
The band was started as a response to the current political environment and structure here in the United States. Things have been progressively getting worse and worse in my country, and this was a musical response to those things. My aim was to make music that could help people, no matter where they are in the world, recognize the inconsistencies within their governments, and be able to make educated decisions.
What bands influense you? Can you describe your sound?
I have a long list of bands that influence me. I grew up in a musically supportive household, so that allowed me to really find my range with music. It built quite an eclectic span in genres. I take influences from bands like YDL, Anti-Nowhere League, Stars & Stripes.....but then I find influences in artists like Joe Cocker. Im a musician, I find my influences where ever I feel there is something that would be useful to me.
Do you have experiences with playing in some other band?
Yes. I have been involved in quite a few different projects. I was the bass player for Patriots Call, the guitarist for Force Fed Hate, and I have been a part of a myriad of other projects. I have several mainstream projects that I do myself as studio projects, and I try to stay involved as much as possible with the skinhead music scene.
Can you introduce your discography? Your last album was released on Pure Impact. Are you satisfied with that album? How was your cooperation with Peter? How did you come in contact with him?
To date The 96 Brigade has released two albums. "Revolution for Dummies" was my first album. It was released in 2010. That album was more of an experiment to see if I could pull an album off by myself. I did, and it allowed me to keep making music. The latest release is "Can you hear us now?". It is a vast improvement from the first record both lyrically and musically. I am totally stoked with how it turned out. I wouldn't have done anything different with it.
"Can you hear us now?" is actually a joint release between Label56.com and Pure-impact. I was introduced to Peter through Label56.com, and our relationship thus far has been great. He's a great guy to work with, and he has a keen eye for the music scene. As far as the european scene goes, Peter has done a lot to try and keep the music alive and well. My hats off to him.
What are your lyrics about?
The lyrics for The 96 Brigade are typically written about current events. I try to make them as politically charged as i possibly can. They are about the United States, but i think world wide they are applicable to any country at the moment. I am adamantly pro-american. I am extremely proud of my european heritage, and i embrace it, but it is my obligation as a U.S. citizen to support what my founding fathers did for this country. I do that with my music.
Do you plan some live shows? Did you play some?
Sadly, i have not played any live shows. Being a one man band, it makes it really hard. I am always hoping to find musicians around the world that would like to play though. I would love to be able to take The 96 Brigade on the road and share my music with others.
Can you describe scene in your area? Can you recommend some bands from your country?
Around me locally, there isn't a scene. Ive been a skinhead for 15 years now, and have a great group of friends that i can keep in touch with.
There are a ton of great bands right now in the United States who are really trying to get their names out. Just to name a few Wellington Arms, Brassic, The Dirty Bunch. The list is long. I think the music scene is reviving itself a little bit.
Can you say something about a) Offensive Weapon b) Bonecrusher c)Wellington Arms d) Bridgeburners?
All four of those bands are great bands. I listen to Offensive Weapon quite a bit. Each of those bands are making music to make a change.

Do you know something about Czech scene?
Sadly, i haven't had a lot of opportunities to experience the czech scene. I hope to change that soon.
What are your TOP albums?
Thats a really hard question to answer......ill try and narrow it down to five albums.
Stars and stripes - Shaved for battle
Skrewdriver - Hail the new dawn
Hepcat - Push and shove
The Distillers - S/T
TMF - Its a thugs life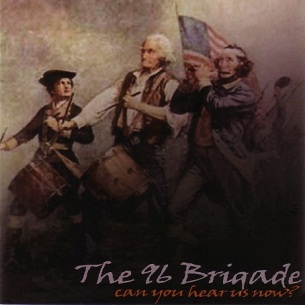 Do you listen some music beside Oi! and Streetpunk?
Thats too long o f a list to even comment on, but yes i do listen t things other then oi! and streetpunk. I enjoy quite a bit of different music. It helps to keep me a more eclectic musician.
Where can we buy some your CD, T-Shirt or other merchandise?
Label56.com and Pure-impact.com both have my cd's. Shirts are for sale on Label56.com.
Do you have some favourite films and books?
I am a huge fan of Nietzsche. I have a large collection of his aphorisms. Aside from that I enjoy reading about european and american history. As far as films go, I am a huge fan of italian and american horror, and zombie films.
Do you have some hobbies beside music?
I enjoy hunting, fishing, and nature.
Some future plans?
Im just going to keep going full speed with my music. I hope to be able to keep putting out albums that people want to hear.
Last comments?
If you hear the album, and you enjoy it, send me a email at the96brigade@yahoo.com . I enjoy hearing from fans. I am going to keep trying to make the best music that I can.