Lone Rider - Skinheads Web Zine
---
---
Skinfull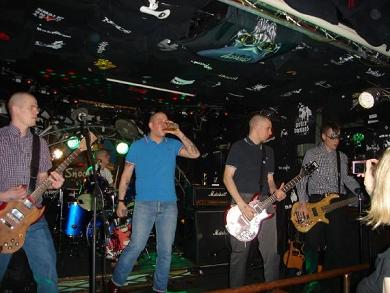 Can you introduce your band?

Skinfull are: Russ Perry - Vocal's works for Aston Martin, Luke Hassett - Lead Guitar Carpenter, Luke Bacon - Rythm
Guitar works as an office bitch, Dave Harding - Bass is a Builder, Dom Hassett - Drums Bar Manager,
Kev Mc - Writes songs/Manages works for Parcelforce

Can you say something about bands history? Why did you renamed band from The Aids on Skinfull?

We started out as The Aids 2004 as a four piece band that was Russ, Luke, Dom and our old bass player Rhian Oliver,
We used to play local gigs around Coventry for a few years until Kev (Gaffer) came to see us play he saw we had
potential so he then helped us find more gigs around the country and just became our manager & friend.
Around that time Rhian left the band and was replaced by Dave Harding on bass and Luke Bacon came in as
a second guitarist. We changed the name to Skinfull as it was a more realistic name as the aids was just an attention
shock name and this has been the line up since.

Have somebody from your band experiences with playing in some other band?

The only member of Skinfull that play's in another band is our Bass player Dave who drums for Criminal Class.

How bands influense you?

Criminal Class are an influence to us, being a coventry Oi! band, Although Dave wasnt drumming with them then!

How many concerts and with which bands did you play?

We have played many gig's over the last couple of years (Cheers Gaffer), some of the bands we played with are
Condemned 84, TMF, Indecent Exposure, Retaliator, Superyob, Pressure 28, 4 - Skins, Plus lot's more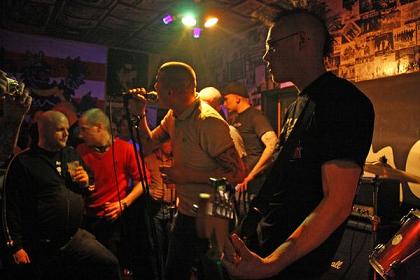 What was your best and worst gig?

For me the best was our first time in Germany in 2008 with Condemned84/on File/The Corps/Mummys Darlings.
It was the biggest gig we had ever played and everything sounded great.
The worst for me would have to be the second time we went to germany as we had a good crowd but couldnt play
well together as we were 1 man down, had been travelling for 24 hours, and had a terrible sound on stage.
Can you describe scene in your area? Can you recommend us some bands?

I think the scene in Coventry reflect's the rest of britain very small and quiet not too many skins and punks
coming through most of the gig's in the UK are aged 35 plus with a few younger one's but not many.
Are you 100% skinhead band?

No our bass player is a punk, and takes a lot of stick for it all friendly banter haha .....
In England are a lot of Oi! bands with experienced formation. You are one of bands, where are young people. What do you think about it?

I'm not too sure what i think about it really, but hopefully other youngish Skins will see us and think we can do that,
and that way the Oi! scene in the UK will grow .....
Do you know something about Czech scene?

I know of a few band's like Disdainful and Pilsner Oiquell, i also know the skinhead scene is bigger in the czech republic
than it is here ....
Can you say something about a)T.M.F b)Warriors c)Breakout d)Lodon Diehards e)Sham 69 f)Pure Impact Records?

TMF
- Brilliant band we've played with them several times and Jonesy really is one of the best front men around ....
Warriors
- Played with them a couple of times Solid band nice lad's Chris the drummer is fantastic .......
Breakout
- we had a great gig with them when their bass player left them that morning but Ade from Pressure 28
saved the day and played for them only played with them once so we hope to get to know them a lot better ....
London Diehards
- Good sound you can tell they have all played for years Terry is a top bloke and Cherry is as
funny as fuck ....
Sham 69
- Some of their early stuff is very good, although Pursey turned out to be a right prick!!

Pure Impact - Peter has been a diamond to us,a really nice bloke that know's his stuff, as it was our
first release it was all new to us so he helped us out with everything right down to the artwork i can't
say enough good things about him ......
Do you have some current and old time TOP10?

It changes all the time but i would say my current top 10 bands are ..... Retaliator,Short Cropped,Superyob,
Pressure 28,TMF,Bakers Dozen,Headcase,Condemned 84,Razorblade and Close Combat
What do you think about rebirths bands like 4 Skins, Indecent Exposure, Gutterspine Army?

Personally i think there are two way's of looking at it,
1) it's great to see the bands live that play the music that got us into the Oi! scene and
2) People will save their money to go and see established bands rather than go and see
an unheard of new band .....
Are you football fans (hooligans, Ultras)? How team do you support?

We support our local team Coventry, although Luke Bacon supports Liverpool, don't go
that much just a few games a season due to playing in Skinfull
What do you think about England Football team´s chances on FIFA World Cup?

I think if we stay injury free and get a bit of luck we will win it .....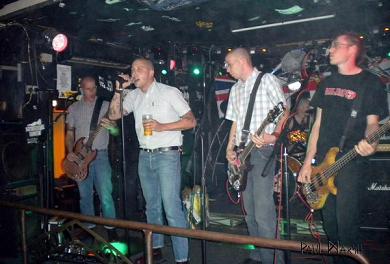 Do you have some favourite films and books?

Horror, Action & Porn movies .......
Do you have some hobbies beside music?

Away from music Our hobbies are very simple football, drinking & stripper's
Some future plans?

This has been a fantastic year for us we've done some great gig's released our debut cd
and we are about to release a split cd with Bakers Dozen and have a couple of brilliant gig's
lined up to finish the year off ....
Last comments?

Cheers Pejchy for the interview, maybe we will meet up if we play your country, and cheers to
everyone that has come to see us play and bought our cd or t-shirt for all you's that have'nt
seen us we will see you soon thanx ..... Hi to all the Czech skins we met at last years Live
& Loud in Belgium we will see you all at Charlie rockets this year Haha