Lone Rider - Skinheads Web Zine
---
---
Šank?!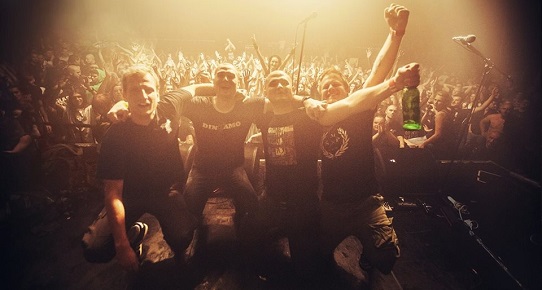 Can you introduce your band?
Oi! We are Šank?! . Street rock band from Zagreb, Croatia. Playing since 2010. But have been playing for years in different Zagreb based punk bands. Band members are Alen Rakić (28) on vocals, Dinko Deumić (28) on bass, Bojan Mišćin (31) on drums and Ivan Mrkoci - Mrva (28) on guitars. We like to say that we play ''street rock'' beacuse it is some sort of mix between rock and roll and street punk. Name Šank?! in croatian means ''bar'' or a place in the pub where you elbow yourself and start to drink :)
What bands are the most influental for you?
In the band we all listen to different types of music but we all have ''connecting bands'' such as Cock Sparrer (our biggest influence and great guys), Exploited, Motorhead, The 4 Skins, lots of ska (mostly our bassist), etc etc. There is really a lot of music that has influenced the band..too little space to name them all.
What are your lyrics about? Do you think about singing some new songs in english?
Our lyrics mostly talk about our real everyday events. Drinking, bad political situation in Croatia, WOMEN, deaths, jobs, etc. They are all based on real life events. Most of all, they don't tell people how to live or cope with these situations and I think people are sick of everybody telling them bullshit. All we give them are r'n'r and feeling that we all have same problems and they are not alone. We have plans on recording some songs in english. On the next album we plan to record it in Croatian and some song re-recorde in english. As singles.
Can you say something about your discography? Why did you put your CDs on internet for free? Do you think, that collecting and buying CDs is dead?
We have one single, three albums and one live DVD from 2 sold out shows at ''Tvornica Kulture''.
Albums :  2010. Grad je naš (The city is ours)
2011. Priče noćnih tramvaja (Stories of the night trams)
2012. DVD - Live from Tvornica
2013. Treća runda (Third round) 
They are all (except DVD) free for download. Links are on our FB page. (
www.facebook.com/sankbend
). They are free not because we believe that buying music is dead but because it is important that people can hear our material. Punk is freedom. We publish our cd's but we also give them for free. Because if somebody wants to buy cd, they will buy it. And if somebody doesn't want to buy them, they won't. Simple as that. :)
Can you say something about your opinion on serbian bands like Ritam Nereda or Prilično Pražni? I think, that there is hate between your countries, but is it also between bands? Can you describe your relations with serbians?
Something about serbian bands? uhh.. all of us from Šank?! like many serbian bands and are friends with many of them. They've had a great punk scene since 80's. Ritam nereda are a great band! Saw them live a couple of times. There is not any hate between bands (at least on our part). ''Hate'' of which you speak of is still held by some people, but it is on young generations to unite the scene and people. Past is the part of PAST. Some things cannot be changed. Some things on both sides will never be forgotten, but must be forgiven. If not we will all become hostages of extremes and past events. We need to look to the future. Especially the music.. Šank?! is not a political band nor will it ever be. We separately HAVE our political views but we will not impose it on others because music is a thing of joy and happiness and comfort and etc..not about hate or fucking politics.
How were your gigs with Dropkick Murphys, Cock Sparrer and Perkele? What are you opinios on them?
Gigs with Cock Sparrer, Dropkick Murphys and Perkele were great. They were a childish dream come true. Especially Cock Sparrer. And we must say this : All of these three bands are bunch of great, honest and friendly people. The couldn't be better. That just proves that some of the punk is still ''true''. hehe.. Also, I don't know if you are familiar with a Croatian band called '' KUD Idijoti ''. We are VERY proud to have played with them also. Unfortunately, that was their last Zagreb show, because later their singer Tusta became very ill and died 14 October 2012. R.I.P.
Can you introduce scene in Croatia? Please write some bands, because I dont know so much.
Scene in Croatia?? It's getting better. We used to have a great scene but last few years were tough. But bands are emerging everyday and it sound great! There are bands such as : Ciroza Jetre, Mašinko, Pankreas, Oi! Front, Bootstock, No More Idols, etc etc.. If you are interested in Croatian punk and skin bands you should have a look at blog :
croatian punk scene
. They publish punk bands almost daily!
I think, that you like to make videoclips. It is not usual in street scene. How did you come with it?
The thing with videoclips is that we've always liked to invest in the production part of the band. We like to make it all worth while. Not to have ''punk'' as an excuse to have low production and such. Modern technology has brought us pleasures of cheap and great production. But we have found great sponsors in ''A-Live Production'' (
https://www.facebook.com/aliveprodukcija
) who produce and record all of our videos, live concerts, dvd's, sound recordings, etc. They are great bunch of people. Respect!
Do you have some merchadise? Where can we buy some t-shirts or CDs?
We have merchandise here and there. But it's mostly in small amounts. 100 pieces and so.. So as we make them they are usually sold very quickly. Recently we made limited edition winter caps. They sold instantly. Right now there are only some cd's of our last album. It can be purchased directly from us and in one punk shop in Zagreb ( Dirty Old Shop ). I think they also have web-shop.
Can you say something about life in your country?
I think that it is going worse every day. Economics are at the all time low. But I notice it's now everywhere in the world. Ukraine is on fire, Greece, Spain, etc etc..The rich have gotten richer and the poor have gotten poorer and people have become sick of it. I frankly despise watching the news because than I just get the headache and habit of drinking. But I can help it. You might look at it as a way to find topics about song lyrics..so as you can see it's not a very difficult job. All in all, I love Zagreb. Love to have been born here, raised here, have a family roots here and so. But all of Croatia is beautiful. You must come and see it. Maybe drink a few beers! ;)
Do you go to football matches? Do you support Dynamo and Bad Blue Boys?
We don't go to football matches. Most of the band members follow results and matches on TV but we are not on the stadium. We support Dinamo and the struggle of Bad Blue Boys with the management but we are not members of the BBB.
What do you think about Thompson? I think, that he is very loved in your country.
What do we think of Thompson?? We think that there is to much attention to that guy which he doesn't deserve. In our case we don't listen to his music, don't follow what he does and mostly don't bother with him. 
Do you have some hobbies beside music?
Mostly it's our jobs. I'm an sound engineer on a TV station so in my spare time I like to record and produce records of other band (if I'm not writing music for Šank?!), Dinko works as a barmen and in his spare time he is drinking in some other bar in which he doesn't work :) , Alen is logistic assistant in local firm and Bojan  is a stage manager for lots of metal band productions. 
Future plans?
We have lots of concerts and lots of plans we would like to keep as a surprise for now. But they are in progress... ;)
Last words?
Keep up the good work, sorry for all of the misspellings, to people who are reading this : All the best, keep the faith and hope to see you soon!!