Lone Rider - Skinheads Web Zine
---
---
Reconquesta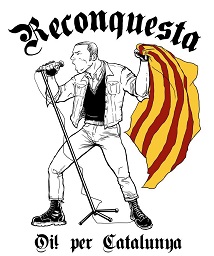 Hello, can you introduce your band?
Reconquesta born from an idea of the bassist and me. We shared many points of view about the skinhead scene and Oi! Music. In Catalonia all the bands who sang in our lenguage and were patriotic always been on far left side and we are not interested in it. We wanted a skinhead Oi! band that sing about catalonian patriotism but without political extremisms, and we formed Reconquest to be this voice.
We are from diferent cities and towns around Barcelona, we are from 23 years old to 40 and we have shit jobs that it no deserve to be mentioned or be unemployed..
Line-up: Guillem R.: Voice and Lead Guitar, Guillem C.: Bass, Uri: Drums, Lluís: Rhythm Guitar
I think that Pilseners (Catalonian top band from the 90's) is our most notable influence. Último Asalto, Retaliator, Combat 84 and more skinhead Oi! clasics of the 90's and 80's... in more melodic songs can find influencies of Cock Sparrer or The Crack and in the drums you can apreciate that he loves punk, hardcore and all fast and agresive music.
What are you lyrics about?
We sing about Catalonia's freedom struggle and the love for her in:
Reconquesta (Reconquist)
El Preludi del Demà (The Prelude of Tomorrow)
Hereus de la Conquesta (Heirs of Conquest)
Segueix Latent (Remains Latent)
Morint Dempeus (Dying Standing)
En Sentir el Seu Reclam (When You Hear It's Call)
We have more personal lyrics like:
Perdut (Lost)
Els Bons Moments (The Good Times, but we adapt this song in english and rename it The Good Old Days for a compilation with worllwide bands called The Wonderfull World of Oi!)
Gloria (Glory)
Or we have more skinhead topic songs like: Oi! Per Catalunya Or a cover of the Skinkorps song Skinkorps Mecanique called Skinheads Catalans.
How are you satisfied with your gigs? What bands did play with you?
For the moment we only play in gigs that I organize. We make our debut with Agent Bulldogg, Antipati and Glory Boys. After I organize a gig with Section 5, but they dissolved 2 weeks before the concert. This 25 of January we played with Badlands and in May I will bring On File. I have a very good memories of the gigs with the swedish guys and Badlands. Very nice people! We would like to play out of our country, but we know that if we sing in catalan is difficult.
Can you say something more about today scene in Spain? Can you recommend some new bands?
Now the scene is woeful. There no exist bands or gigs. A few years ago when Glory Boys played, they organize gigs in their city (Valencia) and bring good bands from other countries like Retaliator, The Veros, Haircut, Bakers Dozen, KrawallBrüder, The Cliches, Loyalty, Superyob, Wrongdoers, Close Shave... but they stopped and now we only have gigs in Barcelona with bands like Cockney Rejects, Adicts, Anti-nowhere League (And we have seen them to many times) or Booze and Glory.
At this time, in Spain I can only remark a few Oi! bands in active: Lucentum Bastards (Very newbies), and some Basque Country bands like Aggressive Combat or Hawkins Thugs. I'm playing a new Oi! band called The Upset with ex-members of Bulldozer BCN (Barcelona). We sing in english. We published a 3 demo songs on bandcamp (theupsetbcn.bandcamp.com)
I recommend you to hear:
Pilseners "Acer Roent" [Barcelona] ("Red Hot Steel")
Último Asalto "Solos Contra Todos" [Barcelona] (Last Assault "Alone Against All")
Ultimo Asalto "Nuestro Orgullo Pasado" [Barcelona] ("Our Past Pride")
Zakarrak "Larga Vida al Oi!" [Basque Country] (Impure (In basque lenguage) "Long Live To Oi!)
Ruin Bois "Sempre en Galiza" [Galicia] ("Always in Galicia")
Area de Combate "Carretera Hacia el Infierno" [Barcelona] (Combat Area "Road to Hell")
Bulldozer BCN "On The Blacklist" [Barcelona]
Conemrad "Soladados del Asafalto" [Canarian Isles] ("Soldiers of the Asphalt")
Suburban Rebels "Nacidos Para Provocar" [Barcelona] ("Born to Provocate")
Decibelios "Caldo de Pollo" [Barcelona] (Decibels "Chicken Soup")
Alta Tensión "La Historia Continua" [Valencia] (High Voltage "The History Continues")
Riot Squad "Mas vale solos que mal acompañados" [Valencia] (Better alone than in bad company)
Shaved Dogs "Feos y Malvados" [Valencia] ("Ugly and Evil")
Glory Boys "Skinhead Resistance" [Valencia]
And soon Reconquesta "Recupera el que et pertany" [Barcelona] (Reconquist "Recover that belongs you")
I think, that in Spain are most of the bands interested in politics. What about your band? What do you think about politics in skinhead scene?
Yes. I suppose that political extremism attracts the youth that want to play to be rebels. "Suburban rebels playing at reds". Allways the same shit. I'm tired of them; they are dreamers, utopians, they live in a fantasy world. They need fight something, an enemy and a struggle, to satisfy their lack of personality; doesn't matter which it is. When I fight is for win and for a real cause. If you like Oi! music and skinhead way of life you can't be a comunist or a national socialist and keep a coherence. We have policy opinions, but we know how to separate them from the skinhead way of life. If you are a radical of your policy, you can not separate them.
Can you say something about Decibelios, Zakarrak and Alta Tension?
Decibelios was the first skinhead Oi! band of Catalonia and Spain. They were great musicians and had a very provocative actitude. Fray (the singer) was the lider. He was the first to became a skinhead and the rest follow him in this way. But finally he tired to be a skin and he leave this lifestyle, this scene and finally the band. He faded all his skinhead tattoos, didn't want to know anything about skins and founded a theater school. More than 20 years later, he return with a pathetic ska band, revisiting some Decibelios songs of their later ska times, and making speechs like a 15 years old teenage. He has disapointed me and I think that he has shattered a legend of Oi! and would be better in a nursing home.
Zakarrak was one of the best skinhead bands ever in Spain. They are from the Basque Country (in the north of Spain), another land in Spain that his people don't feel spaniards and have an own identity. Most bands in Basque Country allways have been very politicized in far left side and they distanced of this tendency and sang about drink, girls and skinhead way of life.
I grew up listening "La Historia Continua" of Alta Tensión. They are the first Oi! band from Valencia (A twinned land of Catalonia, in our south, for us and for many people, the same land) and I think that they mark the caracter of his scene and future bands: unpolitical, pure and simple skinhead Oi! bands like: Riot Squad, Last Waring, Shaved Dogs, Mercancias or Glory Boys.
Can you say something about your statement and song Oi! per Catalunya?
In Oi! per Catalunya I wanted to talk about our Oi! scene, and I only could mentioned poseurs and better past days and I claim for keep alive the Oi! music and skinhead way of life in our land. We tell some nonsense in this lyrics to provocate; we listen hardcore and punkrock and we don't have anything against psychobilly haha.
It seems that there aren't any bands that reminiscene that sound
the streetpunk, the 80's years, Combat Close Shave, Last Resort
are already far away the days that we fill the streets
But a few we still remain cropped and disobedient

Oi! For Catalonia! Can't die this shout
Keep the essence alive, keep the spirit alive.
Oi! For Catalonia! Playing from the streets
the voice of a patriot, proud and irreverent youth.

I curse the fucking day that the punkrock,
hardcore, psychobilly and the deserters born.
Birds already don't wear chelsea, now they are all pin-up's
"To be a skin is not on trend" for people without identity!
Are you going on gigs to other countries? What were your best gigs, where you did not play?
Playing with Reconquesta no, it's impossible singing in catalan and only having 5 demo songs. As a public when our economy has allowed it, we have gone sometimes to Sweden, Belgium and England. I think that our best gig was the last with Badlands (Our 3rd gig) because came a lot of people to see us because is the first time that we play on public. So far we only have played in Barcelona in concerts that I had organize but I have clear that I don't play for any organizations that misrepresent our way of life or tell his truth about skinheads.
What band is for you the most important and why?
Condemned 84 is a top band for us. They always have said and made that they've wanted regardless that political correctness could say. That's the skinhead attitude. We hope that one day we could bring them in Barcelona to share the stage with them.. Cock Sparrer have a special value in the skinhead history too, is the legendary band and they still giving us an amazing shows. I think that when they finish will be an important lost and the skinehads will be differentiated between those who have seen and not. It is clear that Condemned always been more nearest and have been the heart of the skinhead Oi! scene but Cock Sparrer are in the begining and they still rolling on like the first day. The both have a relevant paper in the Oi! history.
What is your opinion on drugs in skinhead scene?
I think that drugs (In scene and out of them) are not made to be controled and seems that people don't know it, but exist diferent kinds of drugs and diferent modes to take it. You can be an alcoholic and smoke 2 daily cigarrete packs and die at 50 years old of lung cancer and you can take cocaine twice a month from 20 to 25 and have a perfecte health the rest of your life. The people says that the first is healthier than the second, but life prove that this is no always true. The problem aren't the drugs, the problem are how to you use it. In general we don't take drugs, except alcochol and tobacco.
Do you know something about scene in Czech republic?
We listen to The Protest, Operace Artaban, Pilsner Oiquell, Disdainful, The Riot, Orlik and Buldok. We know the Hardset shop and tattoo studio in Brno and Bulldog Empire shop in Prague. Guillem, the bassist, have contact with Vlad. And if I had money, I'd like to come to the Bootboys Are Back festival; at this time, one of the best in Europe.
Are you interest in some sports? What are your favourite teams?
We don't practice any sports with regulary. I only make some futting, climbing or swimming, but without seriously and constancy haha. We support Futbol Club Barcelona but we are not fanatics. I could hit someone who insult Barça but I don't see all the matches or don't know all their last news haha. Other members follow it with more regulary.
Future plans?
We will send our first single to press this month and we already have recorded the LP that will be released in a few months. We have some songs to record, and I'm working in songs in english. I supose that in less than a year we will record it again.
Last words?
Thanks for the interest Pejchy, is a compliment that someone has paid attention to us from the Czech Republic. Greetings to czech skinheads. Keep the Oi! alive!